Are you officially a soon-to-be wife? This is without a doubt an exceptionally significant turning point in a person's life. To look back and revise the whole journey in the past, and to show your gratitude towards those who have always been by your side since day 1 is a subtle gesture that you can do before stepping in a completely new chapter in your life. As the big day is approaching, the brides-to-be are likely to spark ideas of gift-giving to their closet persons to express the gratitude towards them. But don't forget that there's one person that might not have been there with you since day 1, but she plays a very important role in your husband-to-be's life. Without her, your future husband could not be the loving man you are in loved today.
Exactly, we are talking about your soon-to-be mother-in-law. Finding a unique Mother in law wedding gift is a wonderful way to show your appreciation, love, and anticipation for the part she will play in your life, whether you are just getting intimately acquainted with her or having a close relationship. It's crucial to prepare wedding gift for mother in law that reflects how much you value her presence at the wedding. To help the mother of the groom feel loved and appreciated, we have put together a list of the best gifts for mother in law on wedding day you may give her.
#1: To my future Mother in law vase
Our "Mother in law wedding gift" list will be kicked off with "To my future Mother in law" vase. Thinking about your the man that is soon to be your husband, there must be an ultimate feeling of gratefulness and respect that you have for your mother-in-law. Just like your mother, your mother in law must have gone great lengths to raise your man for years. To my future Mother in law vase with a sincere message printed on it will make a great gift from the bride to mother in law.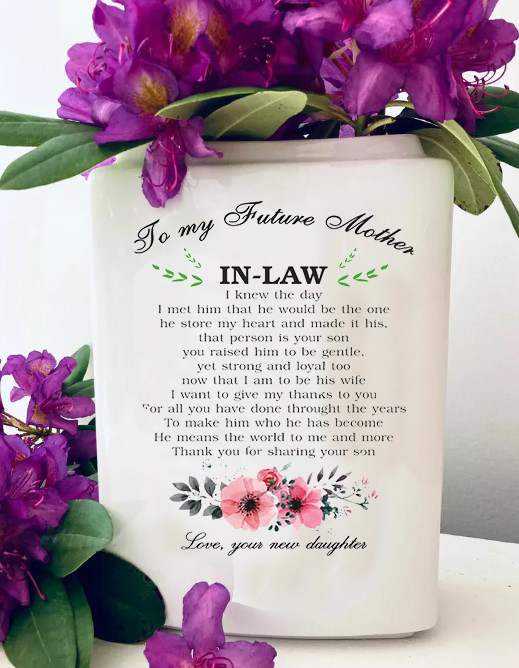 #2: "Thank you" necklace
Our next wedding gift for grooms mother suggestion would be a sentimental (personalized) necklace. Your future mother-in-law dedicated her life to nurturing the guy who would become your future husband. Give her a piece of jewelry that she can wear with both business attire and informal wear to show your appreciation to her. Give the mother who reared your future husband a beautiful necklace of interlocking circles as a token of your appreciation.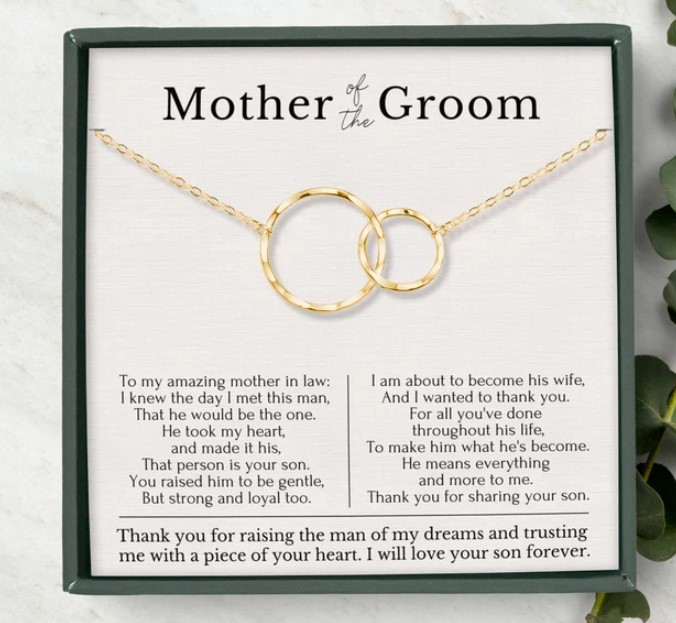 #3: Personalized oyster keepsake dish
She'll treasure this one-of-a-kind Personalized oyster dish forever because it's both thoughtful and practical. She can use it to store her rings by the sink or her bedside table, or she can put it on display as a decorative and practical work of art.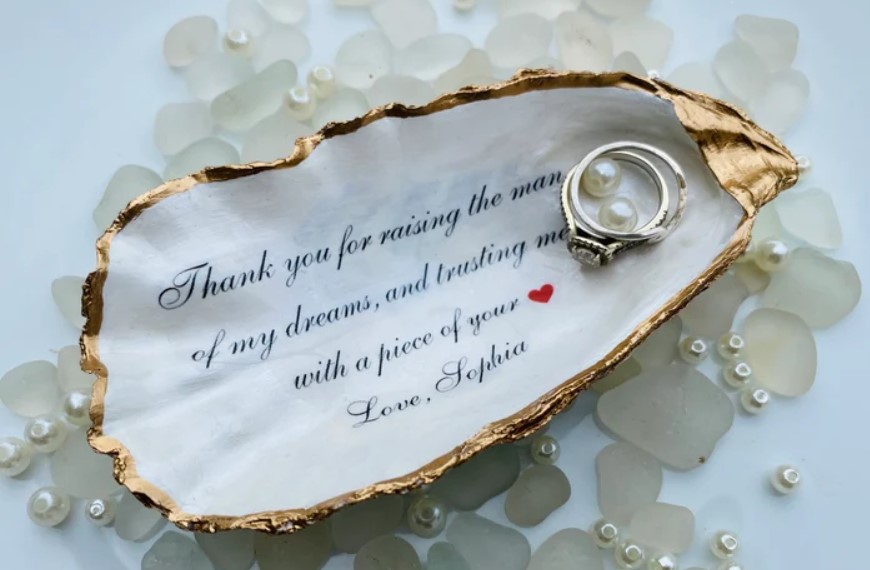 #4: Personalized mother in law keepsake box
This exquisite square box is worthy of being passed down through the generations as a legacy. Even better, you can print a special message in the box. Your mother in law must be so pleased with this Mother in law wedding gift.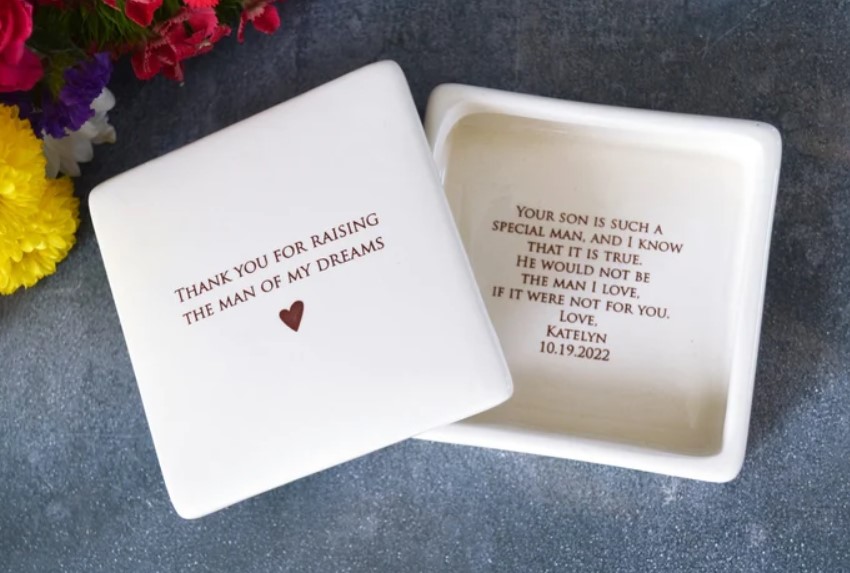 #5: To my future mother-in-law canvas
By expressing your gratitude and admiration through a heartfelt message, you are conveying your genuine emotions and desire to strengthen the bond between you and your future mother-in-law. The canvas itself serves as a lasting symbol of this bond, reminding her of the love and connection you share.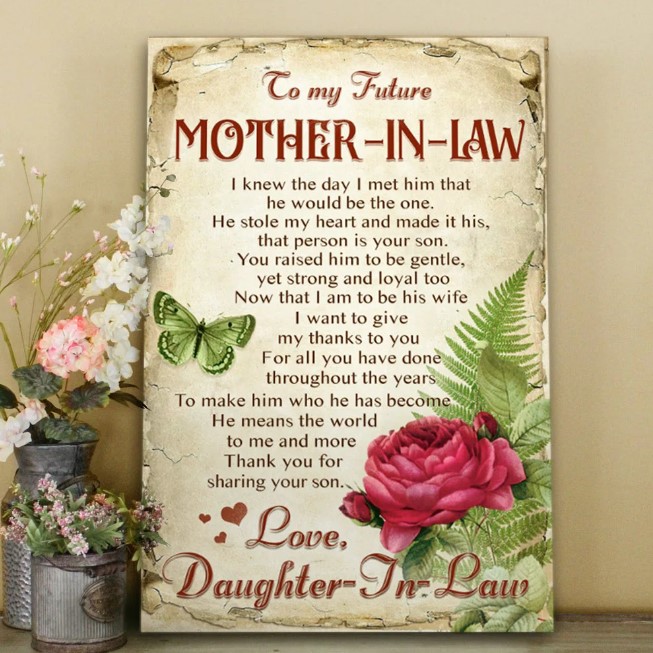 #6: Mother in law handkerchief
It's quite natural for parents to shed a few happy tears with you and your future spouse on your wedding day. This delicate handkerchief is the perfect gift for your future mother-in-law. Thank the mother of the groom for welcoming you into the family with this thoughtful present.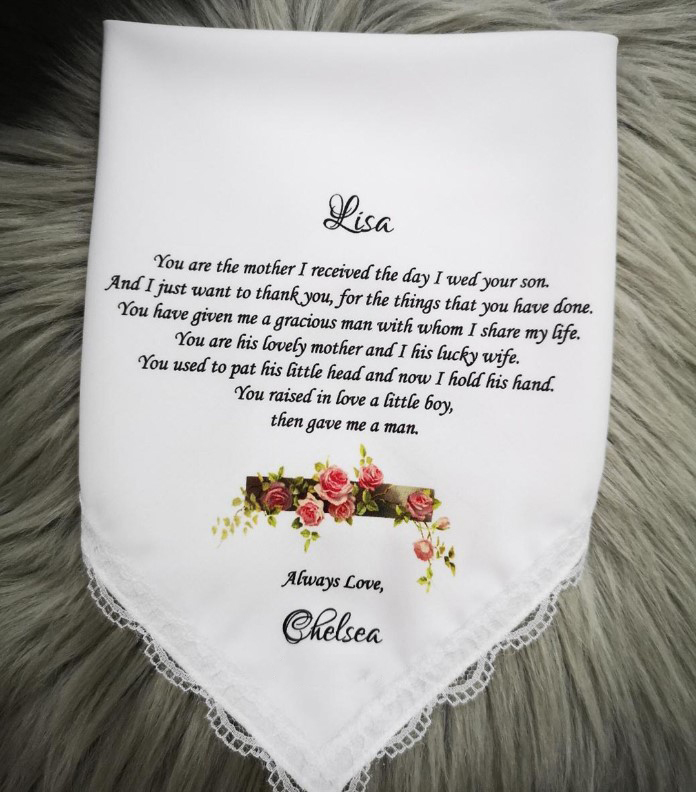 #7: Mother in law scented candle
Don't stress about finding the perfect wedding gift for your future mother-in-law. A gorgeously fragrant candle can sometimes do the trick when words fail. The one with the sweet note vowing to care for her son as much as she does is the one to get.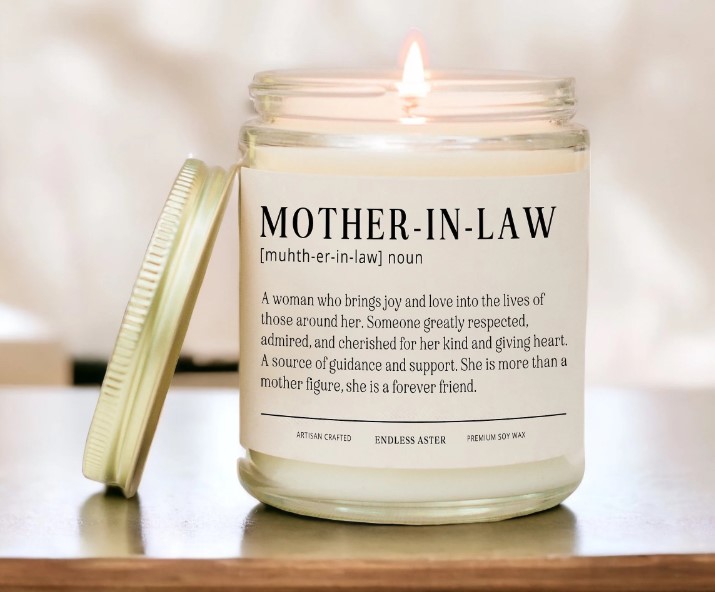 #8: Personalized photo album
A custom-made photo album filled with pictures capturing special moments between you, your spouse, and your mother-in-law. This gift allows her to reminisce and relive those cherished memories, creating a sentimental and personal connection.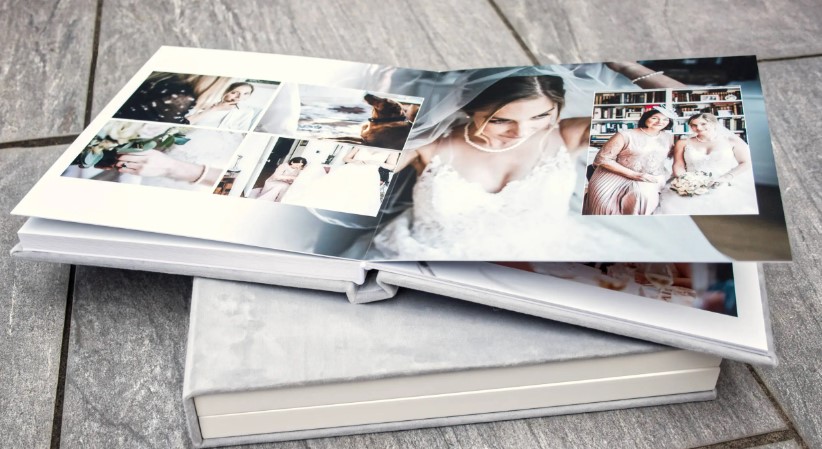 #9: Customized recipe book
Compile a collection of family recipes, including her favorites, along with personal notes and stories. This thoughtful gift celebrates her culinary legacy, allowing her to pass down cherished recipes to future generations.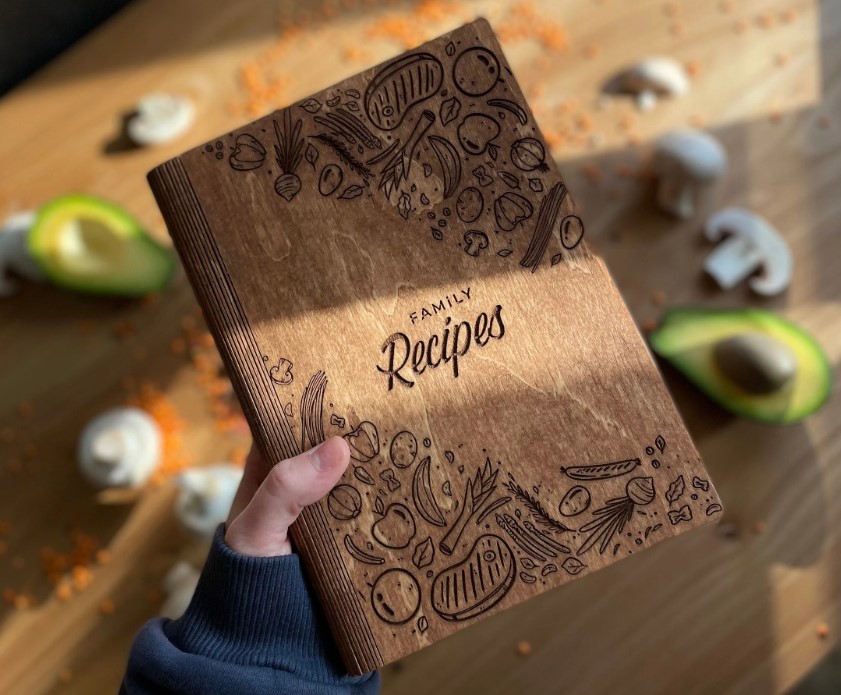 #10: Customized family tree art
Commission a unique family tree artwork. For example, a tree artwork that includes both her side of the family and yours. This gift symbolizes the merging of families and celebrates the bonds that have brought you all together.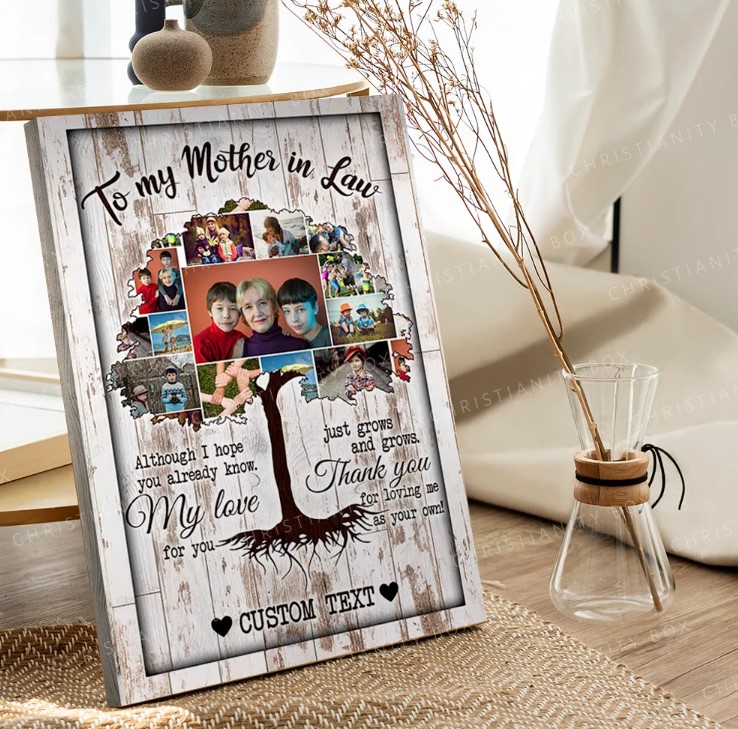 #11: Sentimental book
If your future mother in law is a book person, choose a book that holds special meaning for both of you, such as a favorite childhood story or a book that carries a message that resonates with your relationship. Write a heartfelt inscription inside the cover, explaining why the book is significant to you and your bond.
#12: Spa or pampering experience
Treat your mother-in-law to a luxurious spa day or a pampering experience tailored to her preferences. This gift allows her to relax and indulge in self-care, showing her that you value her well-being and want her to feel special.
#13: Subscription box
Choose a subscription box tailored to her interests or hobbies, whether it's gardening, cooking, or self-care. This gift provides ongoing joy and surprises, showing that you care about her individual passions and want her to enjoy them.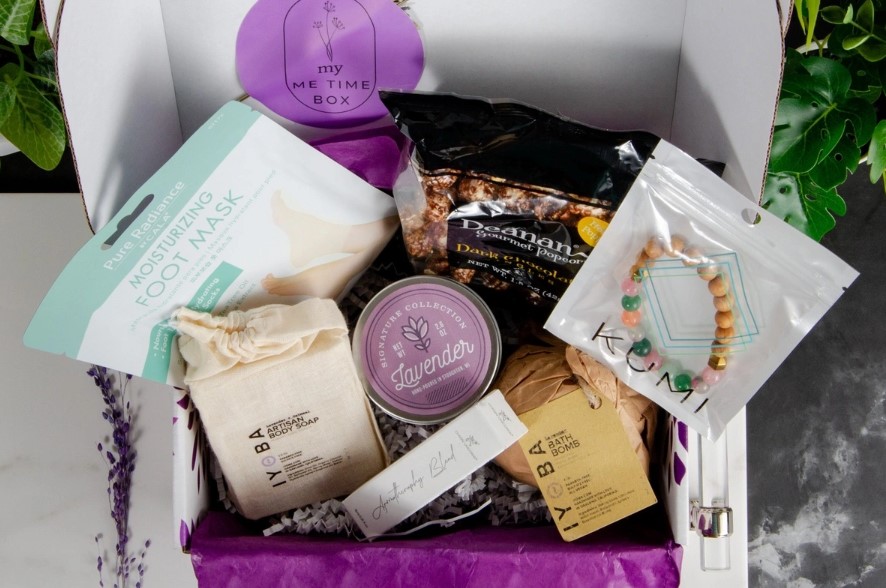 #14: Personalized pearlized clutch
Gifting your future mother in law with this stunning pearlized clutch is a surefire way to make her day. You can have it embroidered with her initials or her surname. Either way, she'll be proud to show off this stunning piece whenever the occasion arises.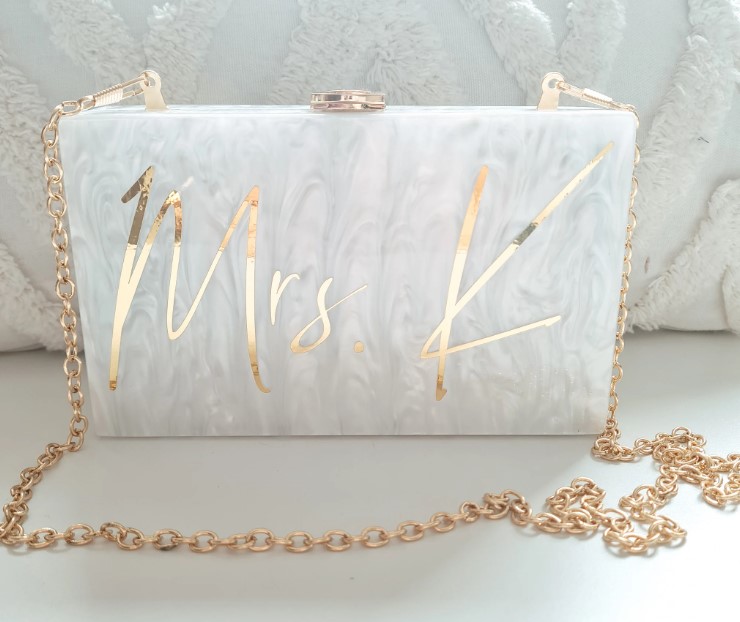 #15: Oil diffuser
Does your future mother in law enjoy scented oil diffusers? Put together a collection of her preferred aromas and she'll have all she needs to unwind with the help of essential oils at home.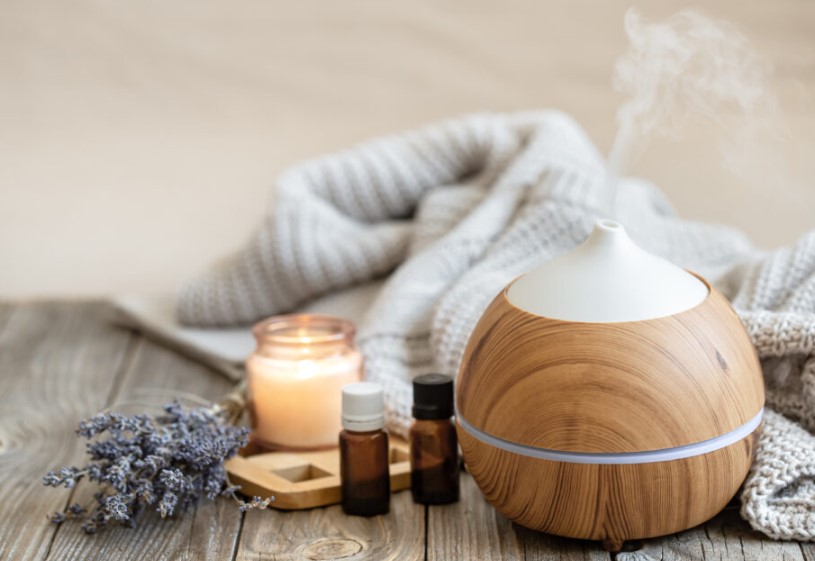 #16: Agate coasters
No woman can say "No" to the gift of unique, one-of-a-kind agate coasters. Another Mother in law wedding gift to win over her heart is looking for unique with subtle textures such as Agate coasters. She can use them whenever she throws a party. And these eye-catching Agate coasters will add an elegant touch to her party.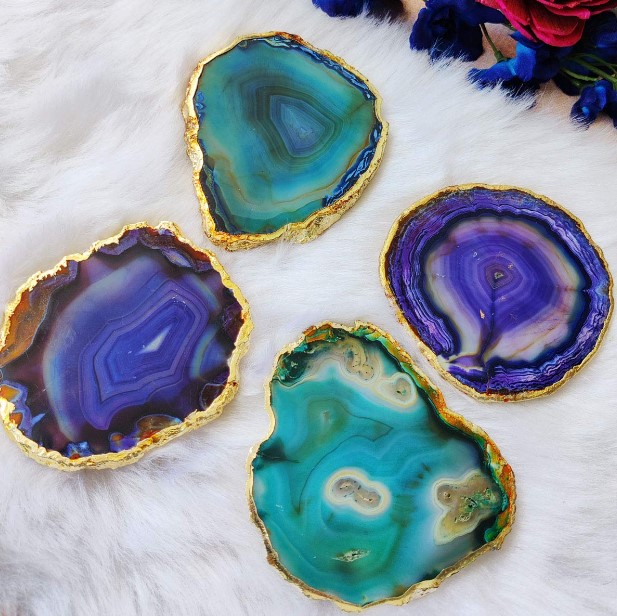 #17: To my future mother in law mug
By acknowledging her influence and expressing thanks for her role in shaping her son's character, you are conveying your understanding and appreciation for the person he has become. Choosing a mug as the gift is practical and versatile. It is an item that can be used daily, reminding your future mother-in-law of your loving message with each use. Additionally, the personal nature of the message on the mug makes it a heartfelt keepsake she can cherish for years to come.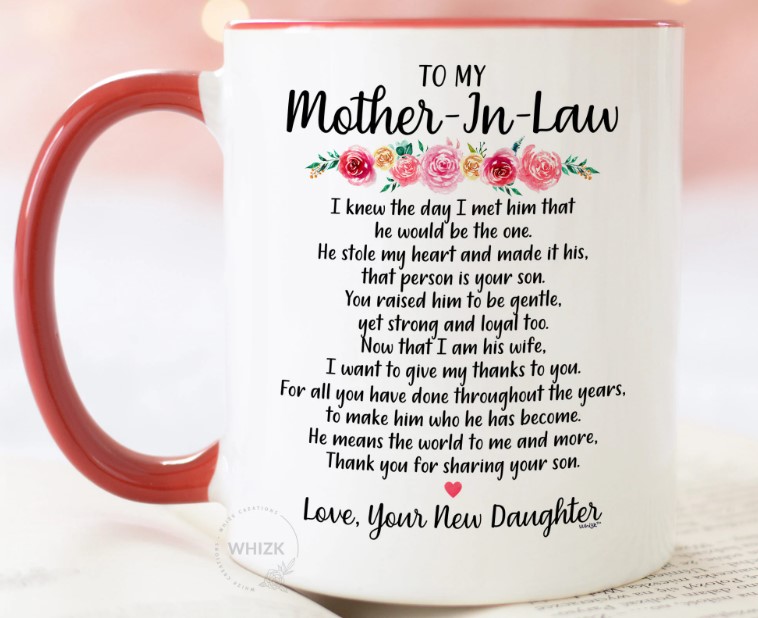 #18: To my mother in law crystal plague
This is also a very touching Mother in law wedding gift that she can keep and adore for years to come. Your future mother in law will be tremendously touched by the thoughtfulness of the gift the moment she opens it and reads the affectionate remarks that have been printed on it. The in-laws' mother and daughter-in-law will grow closer as a result of this present.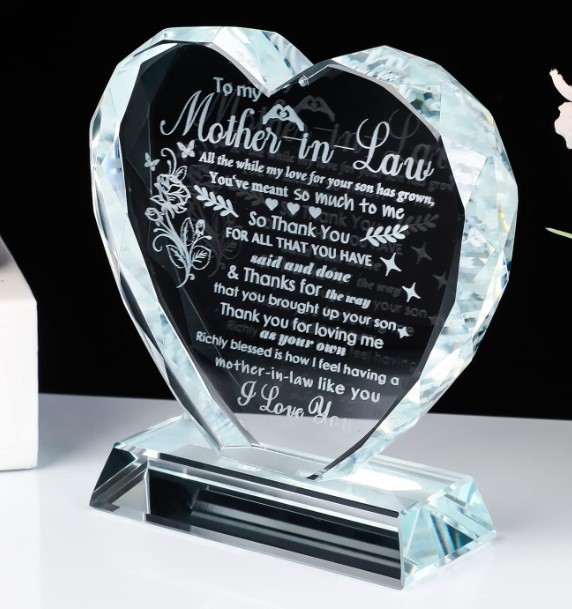 #19: Mother in law ring dish
These charming jewelry dishes are the perfect mother of the groom wedding gift to let your mother in law know how much you appreciate her.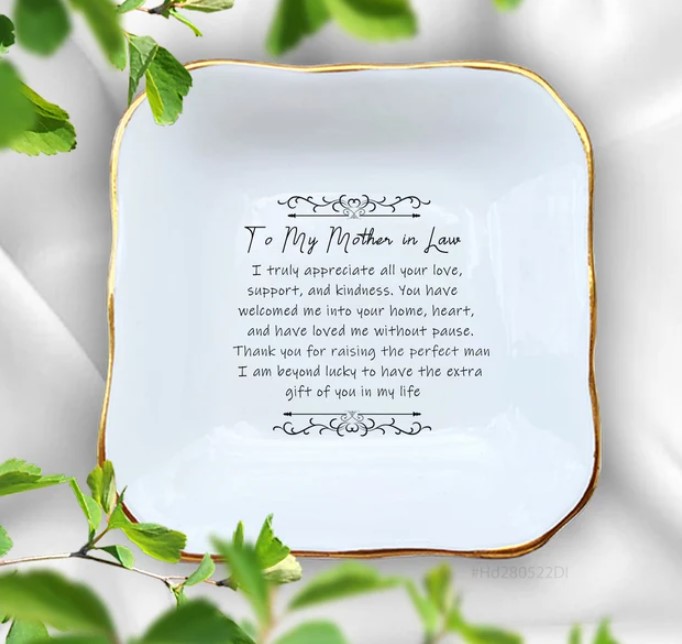 #20: Self-watering sunflower grow kit
This hydroponic planter makes it easy for anyone to produce sunflowers inside. Quickly, she'll have flowers that are as lovely as they are symbolic of you.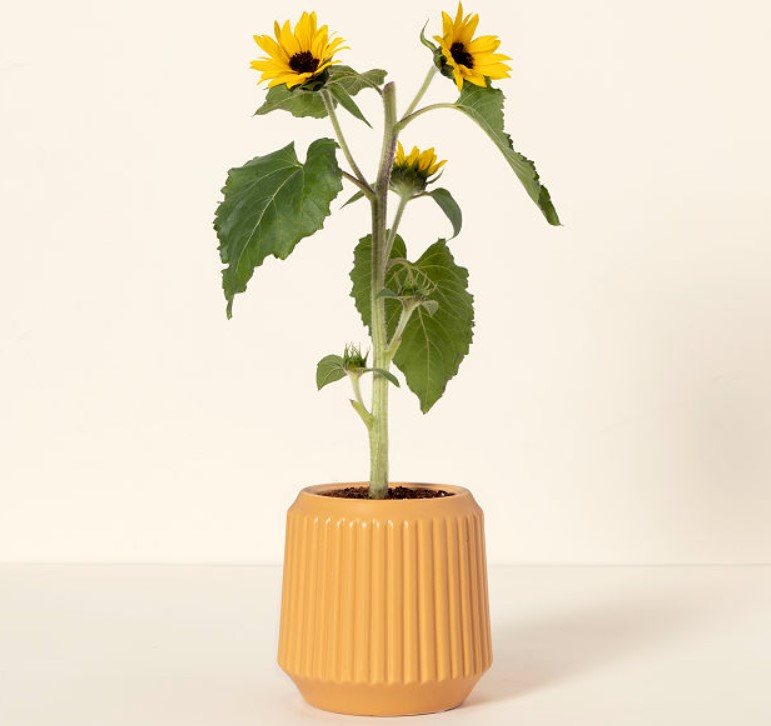 Tips to get a perfect Mother in law wedding gift
There are basically 2 tips we would like you to bear in mind, which are:
- Indeed, it's thoughtful to show that you understand your future mother-in-law's passions by presenting her with a gift, but it might be tricky to keep track of her changing tastes over time. Think about getting her a memento or vintage item that holds sentimental value for you.
- Determine what your available funds are. You don't have to break the bank to provide the perfect present; what matters is that it comes from the heart. Limiting your choices to those within your financial means will make the decision-making process much more manageable.
Our last words
One of the most telling ways to express oneself and one's perspective on others is through gift-giving. Your mother-in-law will first encounter your generosity when she opens the Mother in law wedding gift you bought her. Giving a thoughtful present can set a happy tone for the beginning of a relationship. If you are also looking for gifts for your mother before your wedding festivity, read also Top Heartfelt Wedding Gifts For Mother Of The Bride in 2023 written by Printerval for more wedding gift ideas.