Discover unique national costumes of some countries around the world.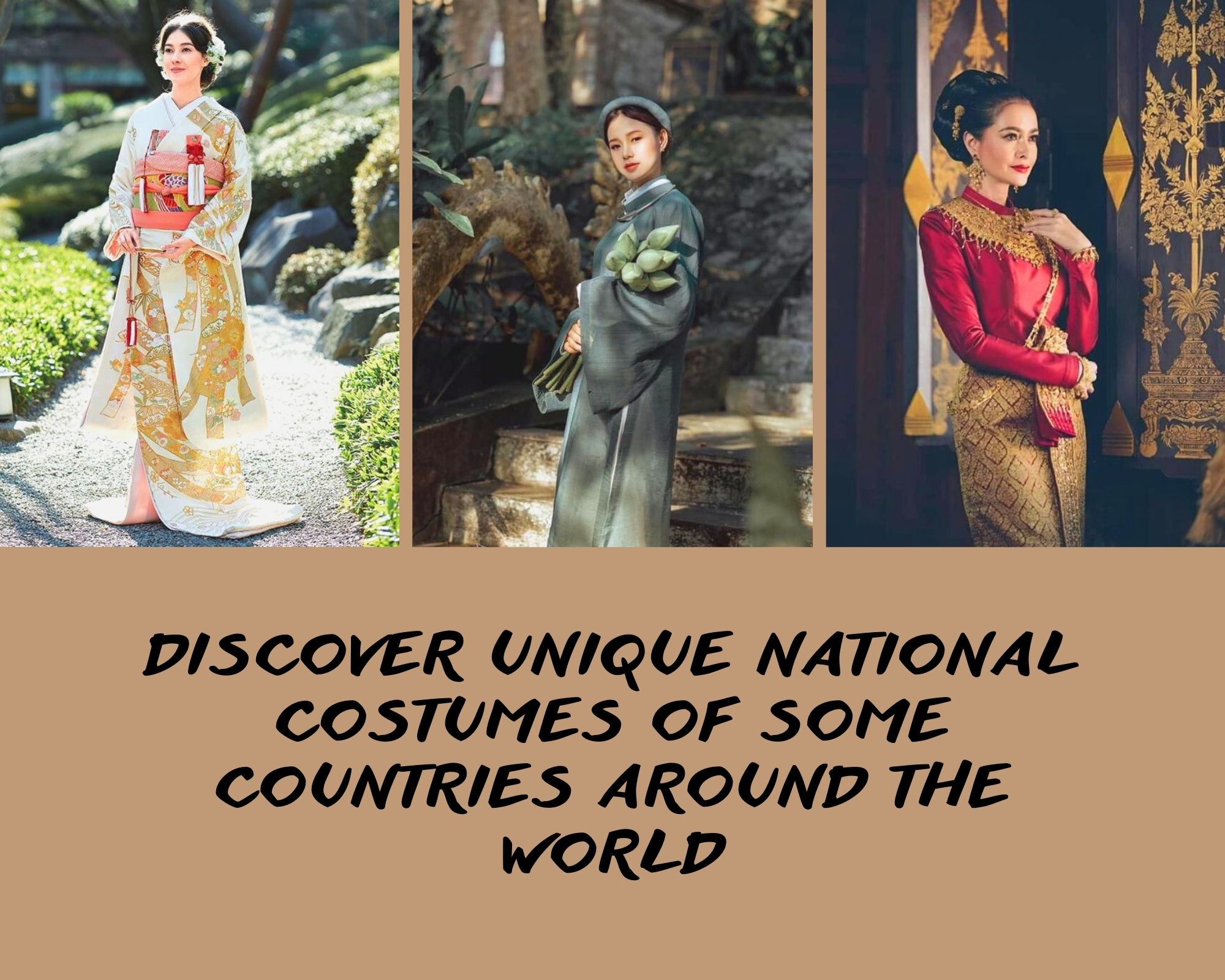 Traditional costumes of each country, each ethnic group have their own characteristics, not only highlighting the beauty of the people when wearing them but also showing the multicultural colors of each country in the world. Through learning about the traditional costumes of countries, we will understand more about the rich diversity of their cultures, beliefs, customs, and habits.
With Printerval, let's discover interesting information about the unique costumes of some countries around the world.
Sari (India)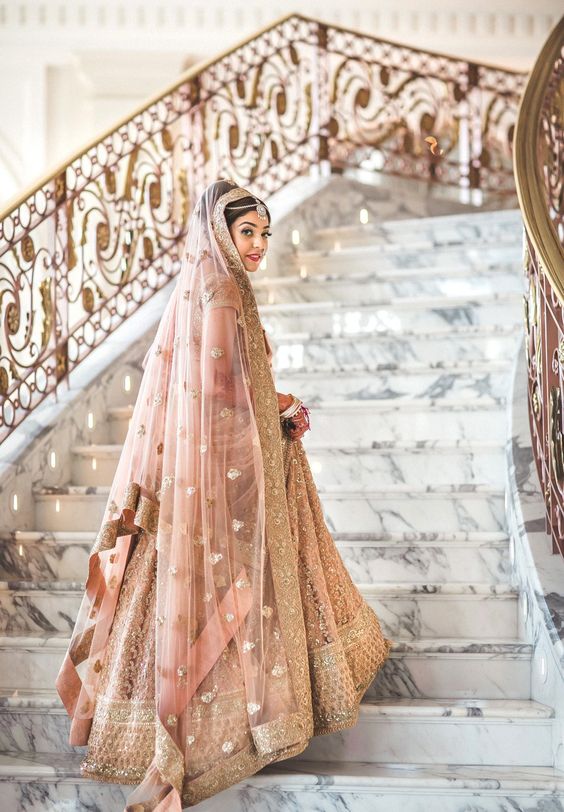 Sari is considered the most beautiful traditional dress in India. The traditional sari shows the beauty and pride of the Indian people in general and Indian women in particular.
Sari costumes have undergone hundreds of years of history but have not changed in form and design. Traditional sari is made from cloth wrapped around the body with different patterns and colors, creating a glamorous and luxurious look for women. When sewing Sari costumes, the most important thing is to choose the fabric and color, because the color is a factor that reflects the situation of the wearer.
For example, Muslims wear a green sari, brides wear a red sari, widows wear a white sari and the lower class wear blue.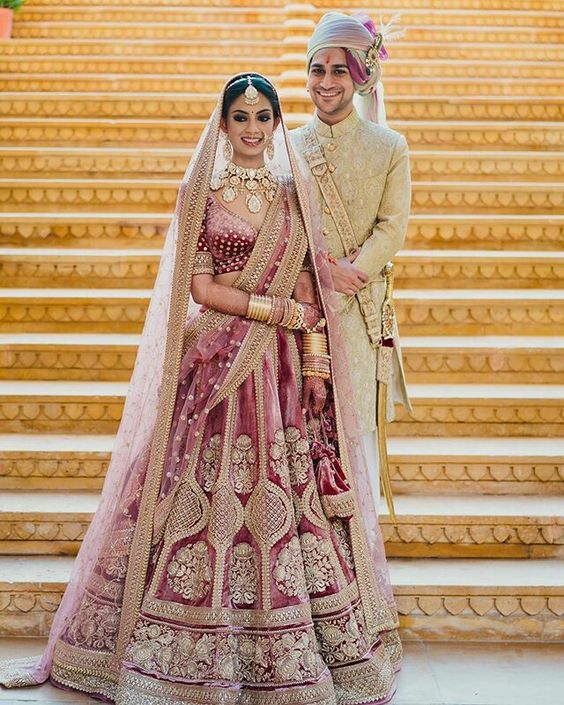 The design with printed and hand-embroidered motifs also plays an important role in making a sari.
Today, in the major cities of India, women only wear Sari on important occasions while in rural areas, the Sari is still the main dress. Modern Sari costumes are often decorated with delicate embroidery, lace trim, patterns, even gems.
Kimono (Japan)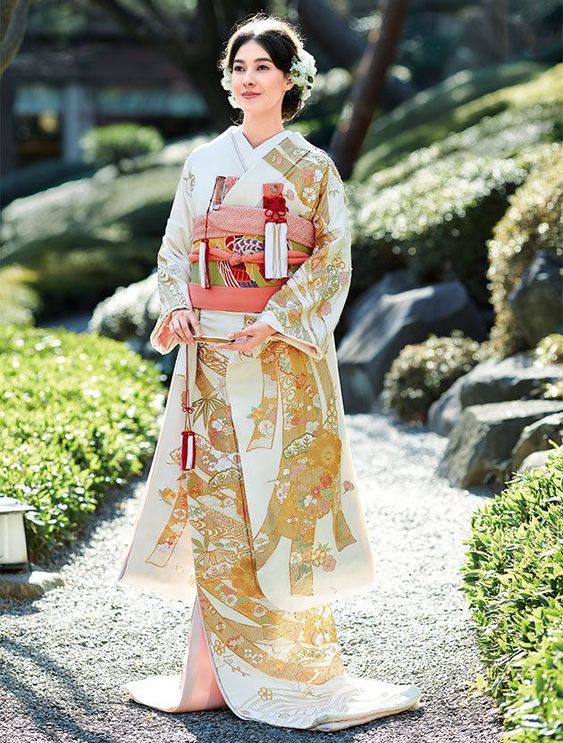 With a history of more than 1000 years, Kimono in Japanese has undergone many ups and downs in history with changes in shape, color. The name Kimono has become a familiar and famous name worldwide when talking about Japanese costumes.
A casual kimono is designed in a freestyle, dyed the entire surface or along the hem. The kimono usually has 4 main pieces, two pieces make up the body, two pieces make up the sleeve. The remaining small pieces make up the narrow collar and pads. Each kimono making is an elaborate and meticulous work of art from choosing fabrics, matching colors, decorating patterns, and choosing accessories to go with it.
Wearing a Kimono is quite complicated and elaborate, according to the principle of front and back, left and right, accompanying accessories…In addition, people wearing kimonos must wear wooden clogs and white tabi socks.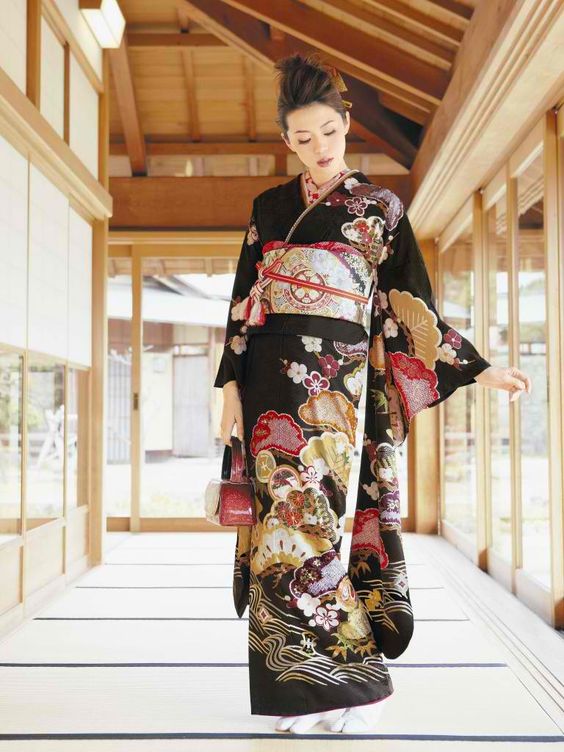 Each type of Kimono is used for a unique occasion, therefore, it is different in materials, patterns, and designs.
Today, the Japanese only wear Kimonos on holidays, New Year's, weddings, and tea ceremonies... to show dignity and courtesy. In particular, Japanese women wear Kimonos more commonly than men, often with striking colors and patterns. Men use Kimonos mainly in wedding ceremonies and tea ceremonies. Men's kimonos are usually patternless and darker in color.
Hanbok (South Korea)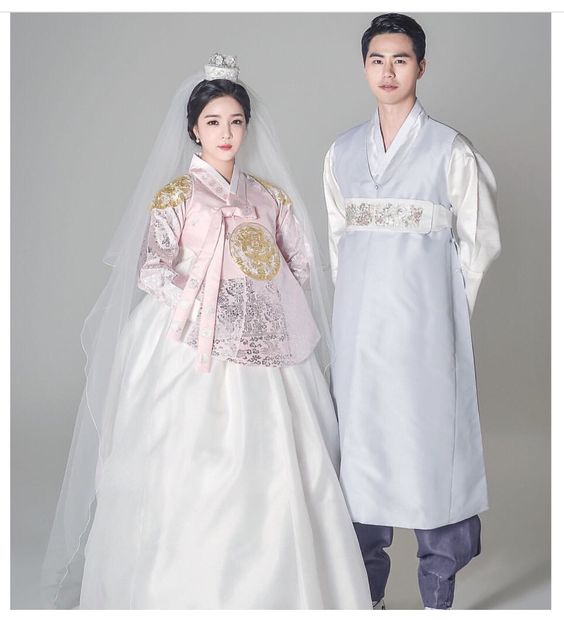 Hanbok is the traditional dress of Korea (in North Korea called Joseon-ot which has a very sophisticated design with bright colors.
The design of Hanbok usually includes a long chima skirt, a short Jeogori shirt. Inside are many different layers of skirts to make the skirt puffy. The ramie fabric used to make Hanbok is woven from natural materials as well as dyed with colors extracted from tree bark and flowers.
The beauty of Hanbok is reflected in the soft curves of the outer Jeogori jacket and the puffy skirt. Depending on the season, ceremony, or event, Hanbok has different colors, materials, and ways of wearing it.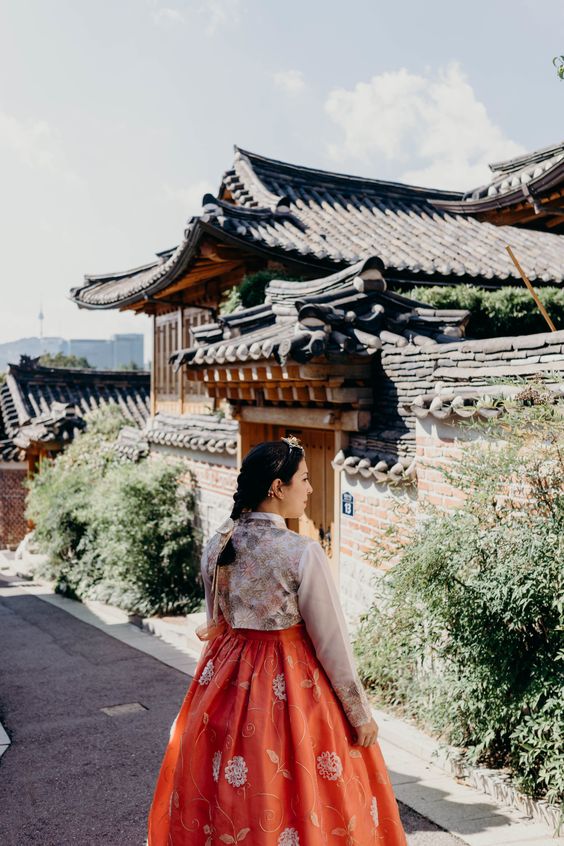 Historically, Hanbok was also meant to express social class distinctions with strict rules on symbols, patterns, colors, and their symbolic meaning. For example, the Hanbok of the new elite was woven from hemp or a high-quality lightweight fabric to make the wearer more comfortable and lighter when the number of layers of fabric was high and the spread generally made the Sandbox quite heavy. But ordinary people are only allowed to wear Hanbok made from simple cotton fabrics such as hemp, cotton, muslin, silk, and satin.
In addition, depending on the season and different regions, Hanbok can be covered with a coat or sewn with fur lining for warmth.
Thai Chakkri, Thai Borompiman and Thai Siwalai (Thailand)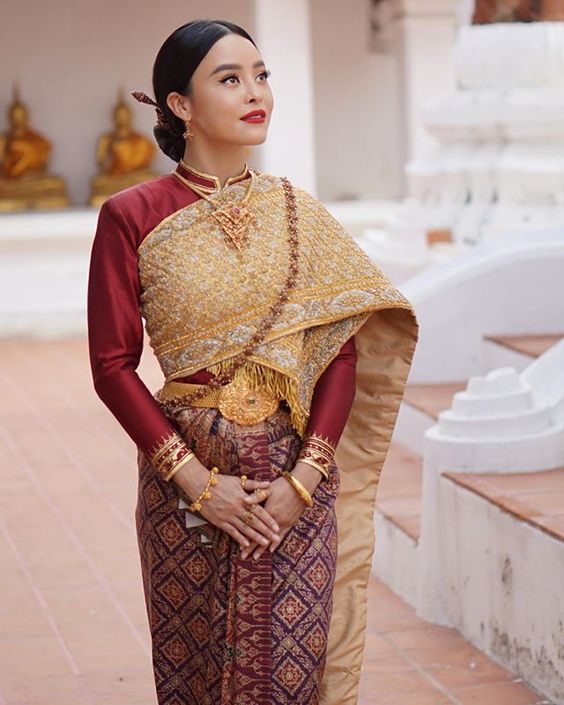 Traditional Thai costumes have many types, of which the three most popular ones used until now are Thai Chakkri, Thai Borompiman, and Thai Siwalai.
Traditional Thai costumes are sewn quite comfortably, with diverse and delicate colors, both bringing comfort to wear and creating an unusually attractive elegance. This traditional dress is often sewn with silk, not only for women but also for men.
First of all, Thai Chakkri is used a lot on important occasions. This outfit consists of a long skirt wrapped around the body and a woven scarf to drape over the shoulders. Both discrete and indifferent, Thai Chakkri helps highlight the modern beauty of women. Perhaps this will make many female Thai tourists want to experience it once.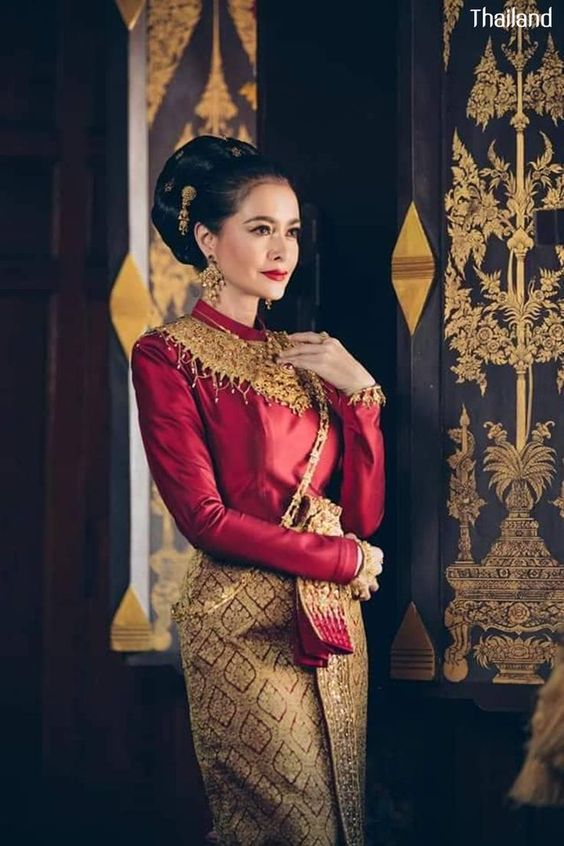 Meanwhile, Thai Borompiman is somewhat "close to the wall" and more simple than Thai Chakri. Thai Borompiman is designed with long sleeves, skirts of the same color, and full leg length. This type of outfit is quite flattering and is often used in evening parties.
Thai Siwalai is also a dress that brings elegance and nobility to women, often worn on important occasions. Thai Siwalai is also very diverse in color, has a long-sleeved shirt design, a long skirt, and a scarf over the shoulder to increase femininity.
Lederhosen and Dirndl (Germany)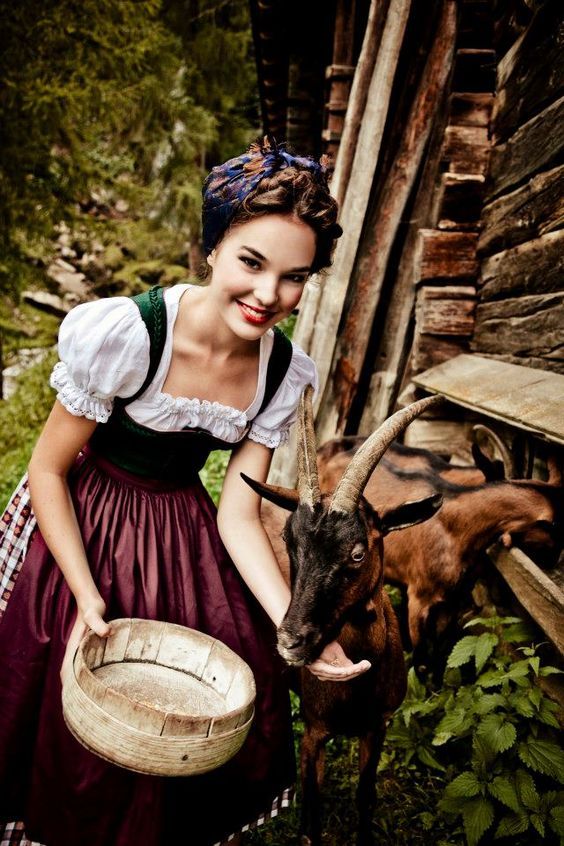 Lederhosen is traditional German men's clothing. Lederhosen was once widespread in the Alpine region and surrounding regions, including Bavaria, Austria, Switzerland, and the autonomous regions of Italy.
Born in the Bavaria region of Germany, Lederhosen is German men's sundress that has knee-length and is made of leather, combined with rustic shoes and wool socks. Going with Lederhosen is usually a casual shirt, but nowadays it is often combined with a white plaid shirt of another color.
Dirndl, meaning "young girl", is considered the traditional dress of women in Southern Germany, especially in Bavaria and Austria.
Derived from the clothing of Alpine farmers, Dirndl is also known as Landhausmode. In the past, this costume was worn by German women everywhere at festivals, at the market, or even at home. But nowadays Dirndl costumes are only worn at rural festivals.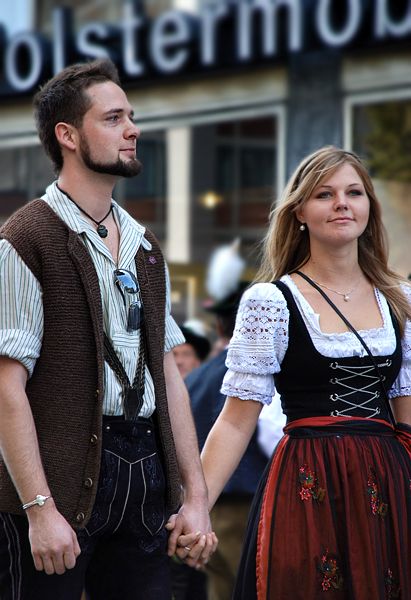 Dirndl has a knee-length, pleated skirt design with a bow belt as well as a white upper body, deep square neckline, tight chest and sleeves, and a stylized apron in front. Depending on the season, this outfit will be different. Aprons are made of thick cotton, linen, velvet, or wool with long sleeves. Colors are often very rich and varied. Summer styles are lighter and more textured, with short sleeves, and are usually made from lightweight cotton.
Today, Dirndl is worn a lot at beer festivals in Germany and Austria, especially in Bavaria. Dirndl is also worn by hostesses in traditional German beer restaurants and by women in tourism.
In particular, every year in October, visitors from all over the world flock to Munich to participate in the world's largest beer festival: Oktoberfest. This is an opportunity for the girls to dress up in colorful Dirndl dresses, sing and dance together with music and dance.
The cheongsam (China)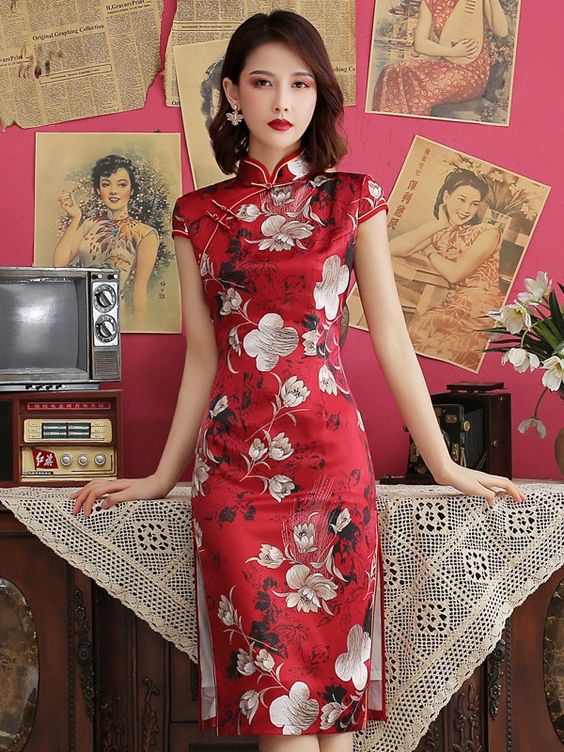 The Chinese cheongsam is one of the sexiest traditional costumes in Asia. This is a one-piece dress and has a design that blends Chinese culture and modern Western styles.
It is said that the Chinese cheongsam was born in Shanghai in the 1920s, however, it was not until the 1930s-1940s that the period of Chinese cheongsam was at its peak. Especially in the 1930s, the cheongsam became an irreplaceable part of a woman, becoming a typical symbol of Chinese women's clothing.
As a rather picky outfit, the cheongsam is tailored with a collar that hugs the body and buttons diagonally to the side and the bottom is two thigh-high slits to create a graceful and seductive look.
The material for sewing cheongsam is usually silk with meticulously embroidered motifs with five-color thread to create softness and grace for the wearer.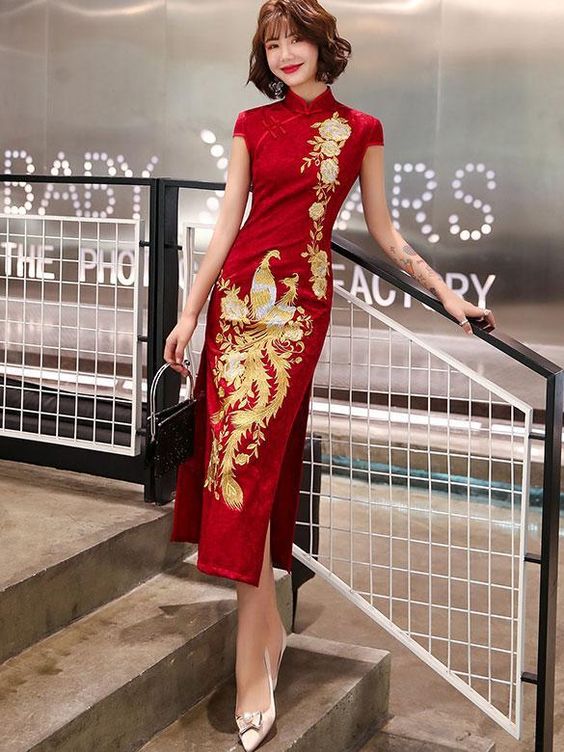 Today, Chinese people wear cheongsam not only on special occasions but also on weekdays with trendy lines. There are many styles of cheongsam, which can be classified according to the type of lapel such as the one-beveled bodice below the arms, the one-beveled below the hips, the two-beveled below the arms, or classified by sleeve type: long sleeves, wide sleeves, short sleeves, etc. or by normal collar, high neckline, split collar, collarless shirt, bamboo leaf collar, chest cut neck...
In terms of color, the cheongsam in the Qing Dynasty usually took two main colors, blue and black, but there were also some parts of the scholars who wore white, red, and purple. Yellow is the color of royalty, so ordinary people are not allowed to use it.
Nowadays, we often see cheongsam styles, vibrant colors, highlights, unique designs, fully showing the national cultural identity, highlighting the beauty of Chinese women.
Ao Dai ( Vietnam)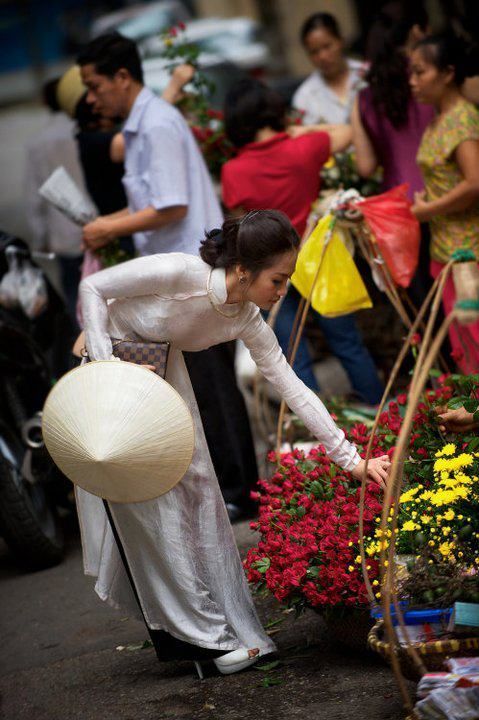 Ao Dai is considered a traditional costume of Vietnamese people. This costume is a process of development from the continuous improvement of the four-body dress, to the five-body dress of the Nguyen Dynasty to the Ao Dai today.
As the name suggests, the shirt has a heel-length flap, the collar is usually a round neck, tight to create a discreet look. The body of the shirt consists of a front and back body along the sides with a slit from the waist down to the hem of the shirt. Buttons are usually designed from the neck to the flap and then down to the hip. The body of the shirt is sewn close to the body to accentuate the sexy curves of a woman. Sleeveless sleeves, extending from the collar to the cuffs, the shirt is often worn with pants of the same color or with white. Ao Dai is often sewn from many different fabrics, but all have common characteristics of being soft, light, and airy.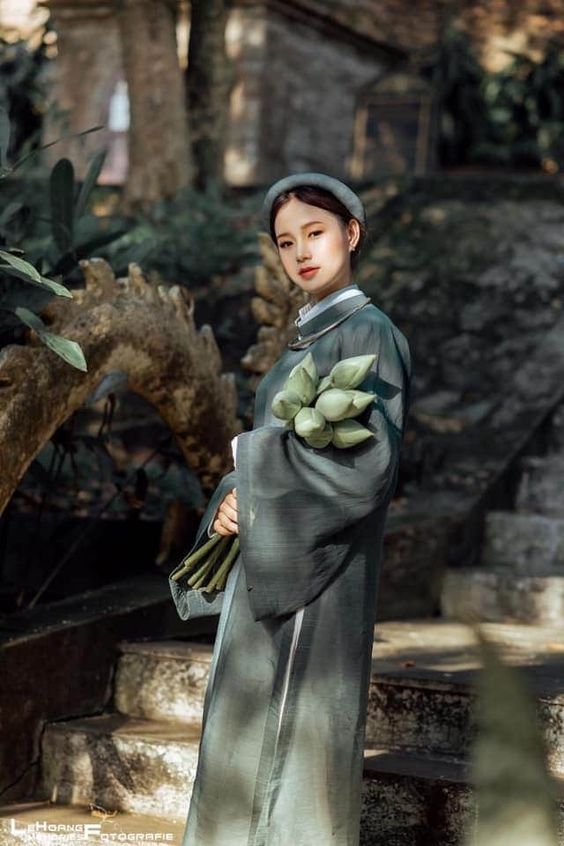 Historically, despite being innovated many times according to the trend of each era, the Vietnamese Ao Dai has always retained its charm and sensuality, becoming the pride of the Vietnamese people. Not only a costume, but ao dai has become a symbol of Vietnamese women, an indispensable traditional cultural product for the beauty of Vietnamese women.
Ao dai has become the standard dress for special and formal occasions such as national holidays, weddings, New Year's Day, graduation ceremonies, or important competitions. The traditional Ao Dai has contributed to promoting the image of Vietnam all over the world.
Access printerval.com/blog to explore more useful and interesting blogs!