Your mother, she has been there for you ever since you first imagined your wedding day. And now she may share in your joy as you watch your goals materialize alongside you. Give your mother a special present to show how much you appreciate all she has done for your wedding. These heartfelt expressions of appreciation will make her happy (and maybe even make her cry), even if a present can't explain how much she means to you. We've compiled a list of the most thoughtful and appreciated wedding gifts for mother of the bride to help you show your appreciation for all your mom has done for you.
These wedding mother of the bride gifts range from heartfelt keepsakes she'll treasure forever to luxurious treats that will make her feel like the monarch she is. She's been anticipating this moment for as long as you have!
Keep reading for a rundown of some of the top wedding gifts for mother of bride is currently available, as well as some frequently asked questions to help you narrow down your options.
#1: Mother of the bride earrings
Gifting a pair of exquisite earrings to your mom is a thoughtful and meaningful gesture. Earrings can serve as a beautiful accessory to complement her attire on a special day and also act as a cherished keepsake to remind her of the joyous occasion. Whether choosing elegant pearls, sparkling diamonds, or stylish statement pieces, the earrings will undoubtedly be a treasured gift that she can wear with pride and fondly remember the wedding day.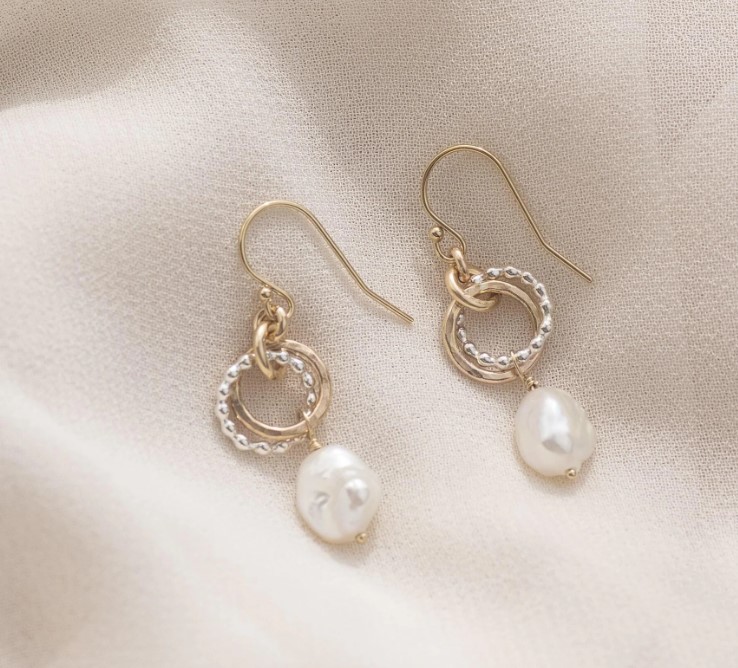 #2: Mother of the bride handkerchief
Mom will probably be choking back tears on your wedding day. Gift your lovely woman something to use when she cries tears of pleasure, like this lovely embroidered handkerchief, and she'll know how much you care.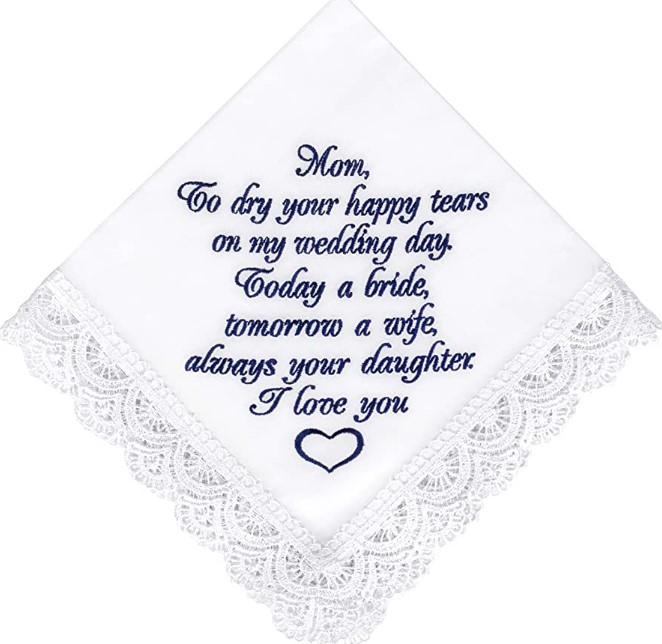 #3: Personalized jewelry tray
Once the wedding festivities have concluded, a customized jewelry tray featuring the name of Mom serves as a wonderful memento. If she already possesses a preferred jewelry tray, she can repurpose it by utilizing it as a designated spot for her keys or as an ornamental container for desk essentials.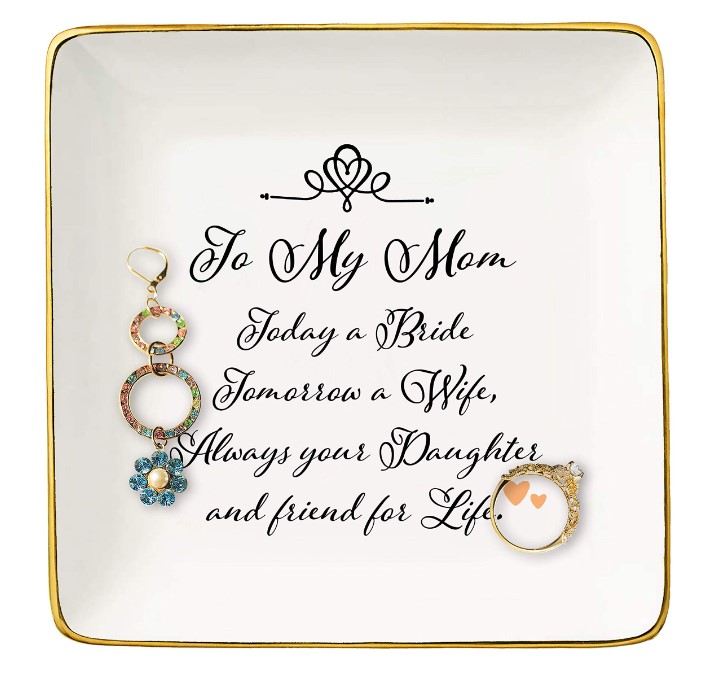 #4: Personalized bracelet
This is no wonder one of the most subtle wedding gifts for mother of the bride. This is a timeless piece of jewelry that she could put on on your big day and afterward, thanks to its dainty chain and understated design.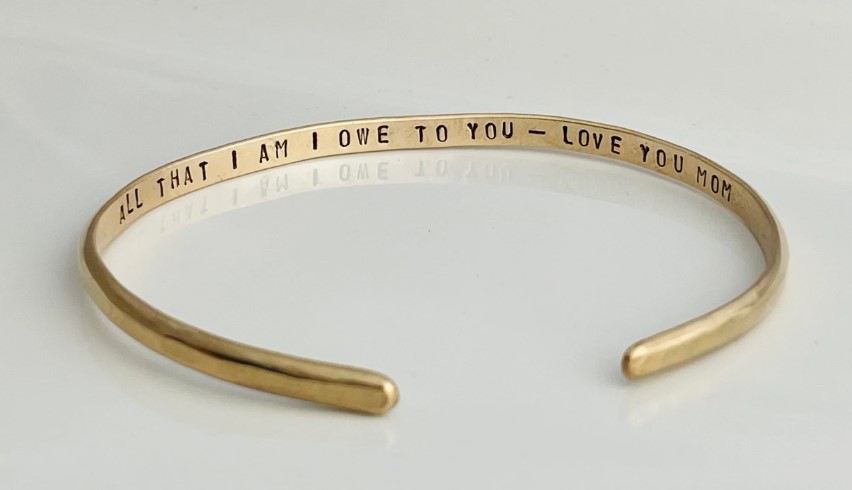 #5: Self-care gift
This is the kind of present your mother could like if given in advance, around 2-3 months before the big day, for example. It's meant to relieve some of the tension she's feeling as the wedding day approaches. There's always something exciting and rejuvenating to look forward to each month.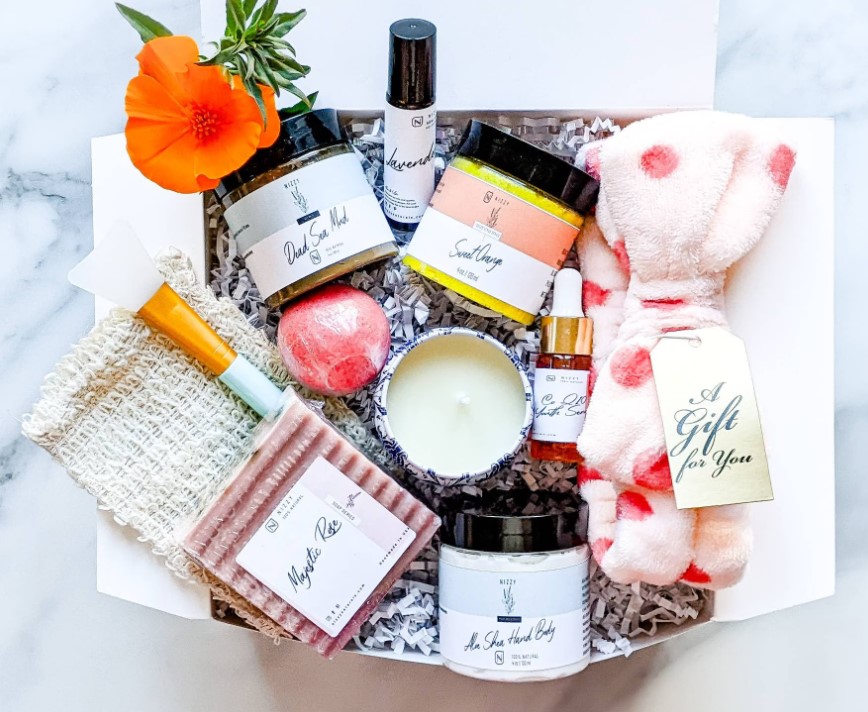 #6: Personalized photo album
Compile cherished memories of you and your mother in a personalized photo album, capturing the special moments you two shared throughout the wedding journey. This gift allows your mom as the mother of the bride to reminisce and relive those heartfelt memories.
#7: Spa or relaxation package
Treat the mother of the bride to a luxurious spa day or a relaxation package, offering her a well-deserved opportunity to unwind and rejuvenate after the wedding preparations. This gift allows her to indulge in self-care and pampering.
#8: Handwritten letter box
Craft a heartfelt, handwritten letter expressing gratitude, love, and appreciation for the mother of the bride. This personal and sentimental gift is sure to touch her heart and become a treasured keepsake. You can engrave the message onto a porcelain box so that this gift would be more pragmatic which she can use in her everyday routine.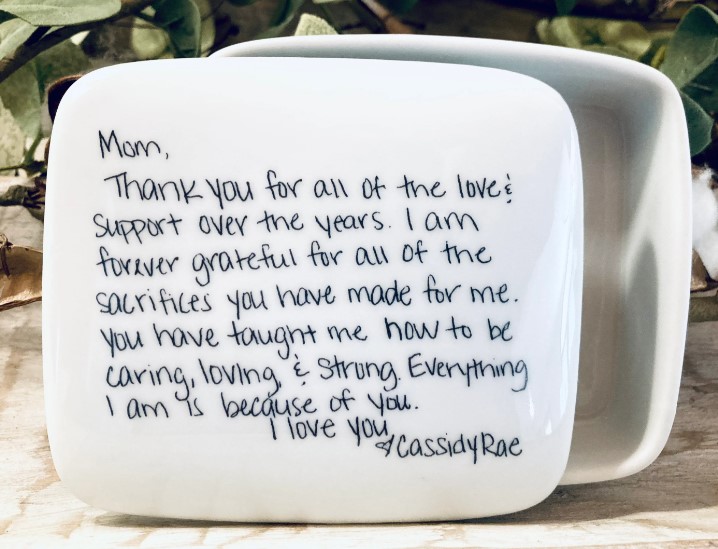 #9: Engraved keepsake box
Thinking of wedding gifts for mother of the bride, we suggest presenting a beautifully engraved keepsake box where the mother of the bride can store precious mementos from the wedding, such as invitations, dried flowers, or a special note. This gift offers a safe and stylish place to preserve cherished memories.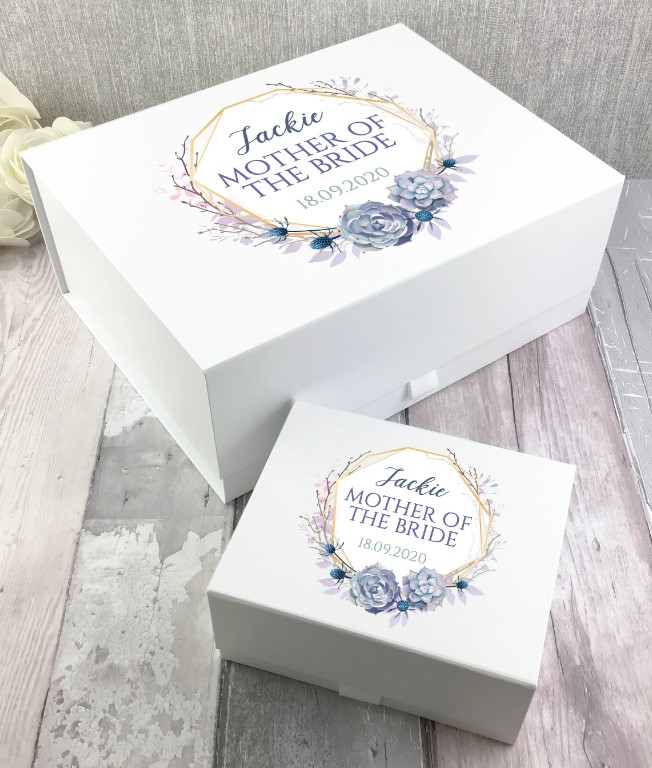 #10: Mother-Daughter experience
Plan a special outing or experience for the mother and the bride to enjoy together after the wedding, such as a mother-daughter spa day, a cooking class, or a weekend getaway. This gift allows them to create new memories and strengthen their bond.
#11: Personalized robe or pajama set
Gift a luxurious, personalized robe or pajama set for the mother of the bride to relax on the wedding day or during the honeymoon. This thoughtful gift provides comfort and a touch of elegance. You can also gift your soon-to-be mother-in-law a set of personalized robes to show your appreciation to her.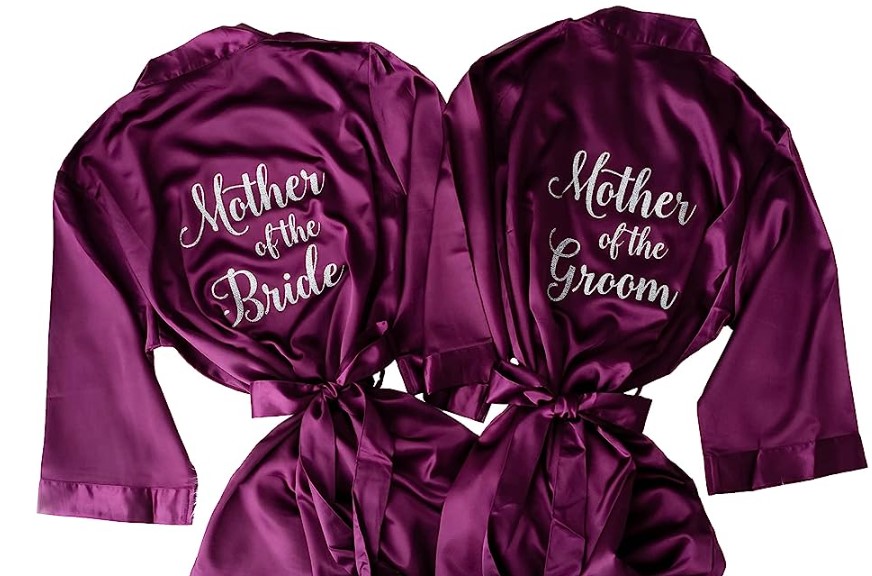 #12: Customized artwork
Commission a custom artwork or portrait that represents the mother and the bride, capturing you two's unique relationship and the joyous celebration of the wedding. This artistic gift becomes a cherished piece of decor and a reminder of your special bond.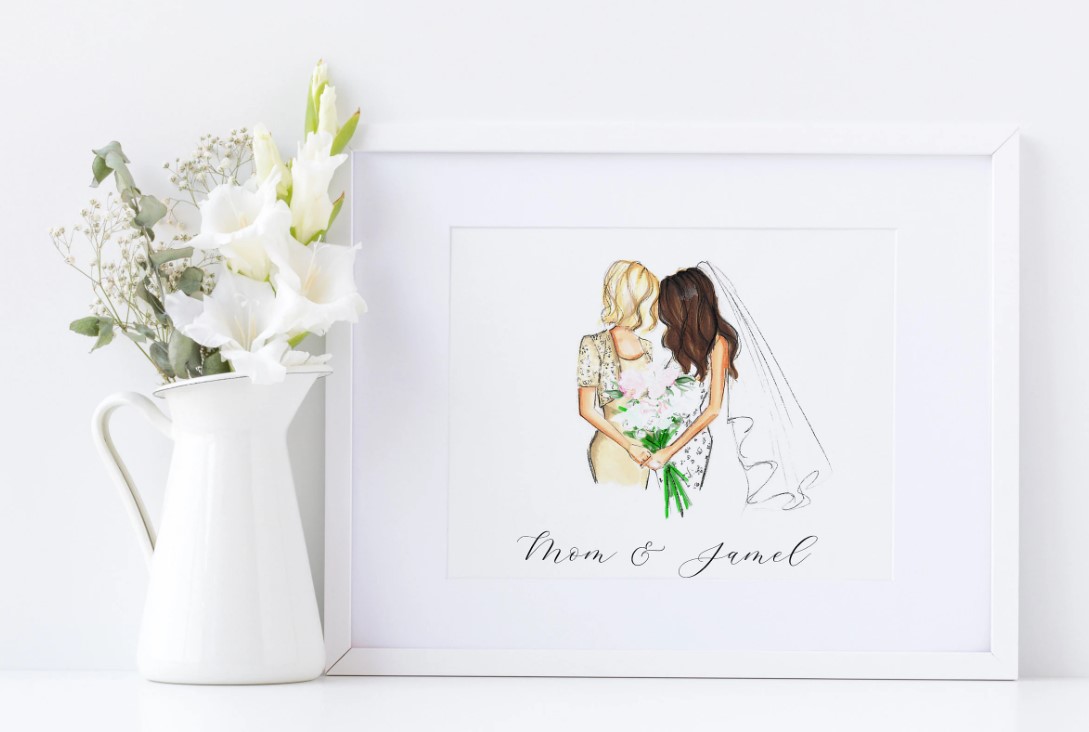 #13: Memory jar
Fill a decorative jar with small notes, each containing a special memory, wish, or message for the mother of the bride. This heartfelt gift allows her to revisit those memories and feel the love and appreciation of her family.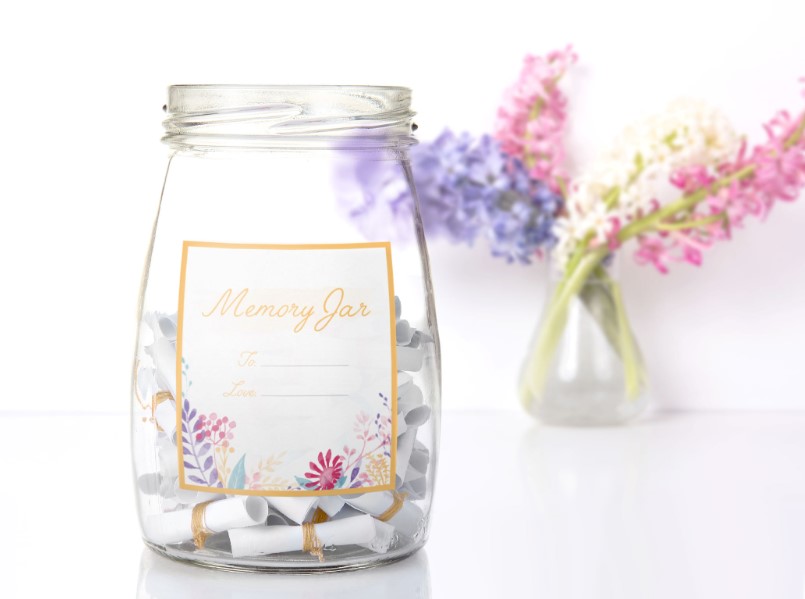 #14: Mother of the bride tumbler
On the morning of your wedding, your mother will probably require many cups of coffee to get her through the day. If she's running back and forth between the venue and her house to check on your hair and cosmetics, give her one of these adorable tumblers to keep her coffee hot. This is definitely one of the best wedding gifts for mother of the bride.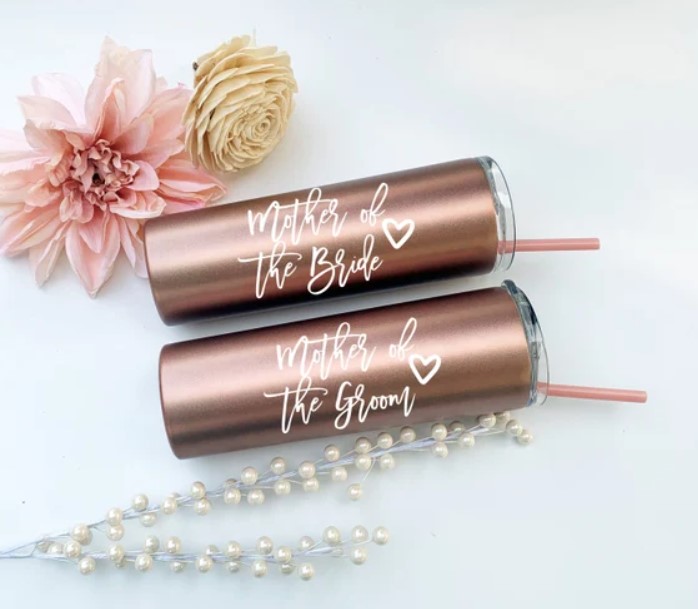 #15: Mother of the bride jewelry pouch
This lovely case will house her wedding day baubles and keep them secure during the mayhem; she may also use it as a travel case for the rest of her life.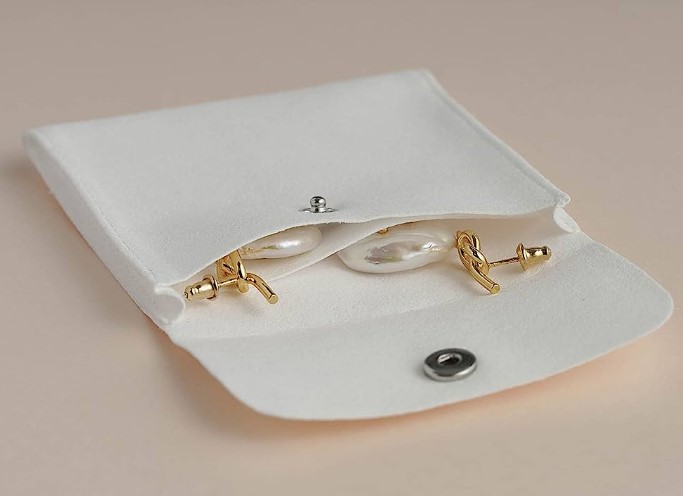 #16: Perfume
Our next suggestion for wedding mother of the bride gifts will be perfume. Consider her preferred scents of perfume as well as her go-to brand when choosing the mother of bride wedding gif. The scent will help complement her confidence in the role of the mother of the bride in your wedding.
#17: Mother of the bride personalized clutch
Create a one-of-a-kind keepsake for the big day by having a picture of your choosing printed on the inside of this clutch. This cute handbag is the perfect accessory for your mom.
#18: Mother of the bride pocket mirror
Speaking of wedding gifts for mother of the bride, we think that your mom is likely to have the need of taking care of her own look during your wedding. So, there's little doubt that your mom will appreciate having a personalized pocket mirror to use for touchups during the day of your wedding.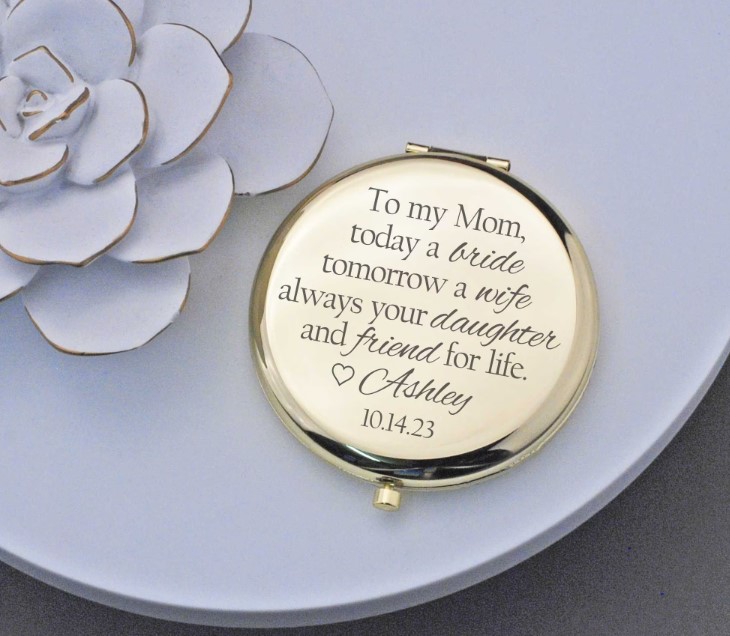 #19: Crystal heart keepsake
A very heartfelt choice of all the wedding gifts for mom from daughter. Presenting a Crystal Heart Keepsake adorned with heartfelt inscriptions such as "Mom, today a bride, tomorrow a wife, forever your daughter. Best friends for life," makes for a touching wedding gift for the mother of the bride. This exquisite keepsake serves as a symbol of the enduring bond between mother and daughter, capturing the joyous occasion of the wedding while emphasizing the lifelong connection and friendship you two share.
More crystal heart keepsakes are HERE.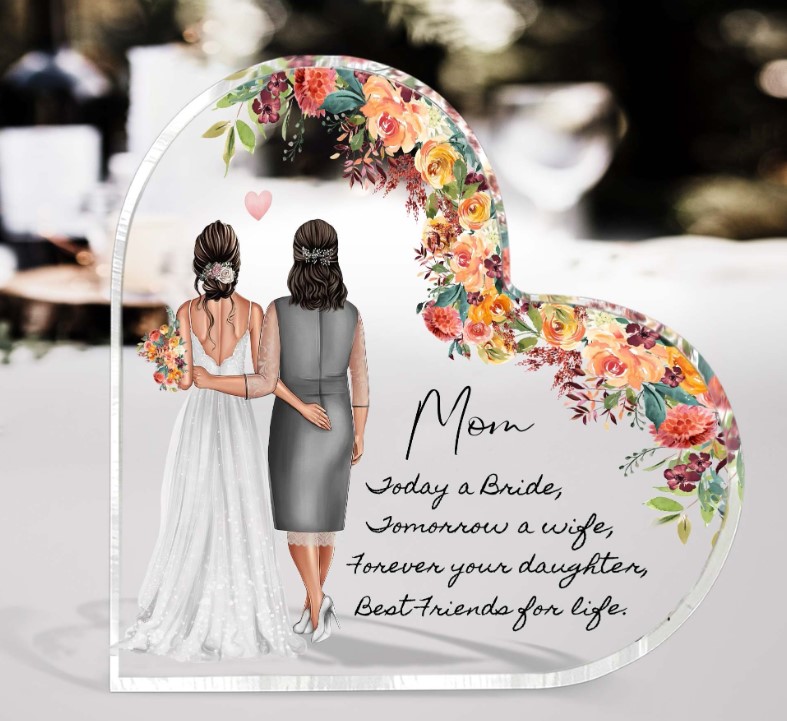 #20: Mother of the bride gift tea light holder
A candle and tea light holder set would be an ideal wedding gifts for mother of the bride for a mom who is a fan of candles. This lovely tea light holder is a great memento to help her remember her daughter's wedding day.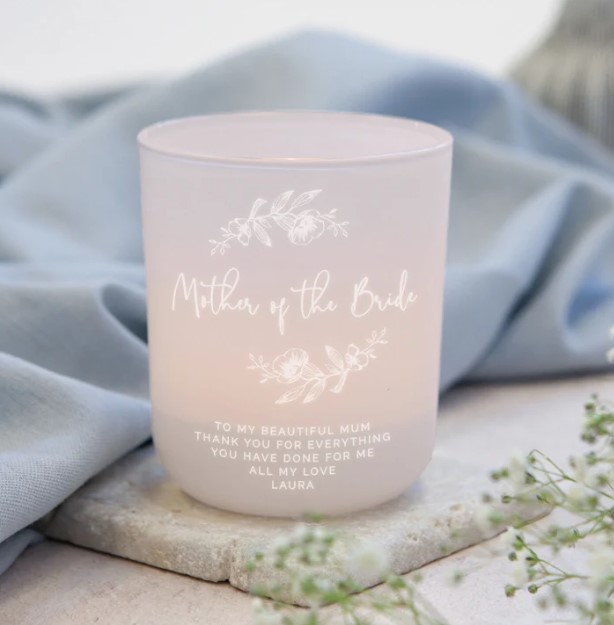 What is the tip when it comes to choosing wedding gifts for mother of bride?
It's kind to show your mom appreciation at several points in the wedding preparation process, but a personalized present is appropriate in the days or weeks leading up to the big day. Both of your schedules will be packed on the big day, so our advice for you when it comes to gift-giving is that you should plan something enjoyable to do together ahead of the big day.
Alternatively, if you'd want to give her something little, such as jewelry, on the wedding day itself, it's best to do so before the celebration begins, when it's less likely to be lost or stolen.
A gift that speaks to her hobbies is more likely to be appreciated and used, and it also shows that you have taken the time to learn about and appreciate her life outside of work.
Conclusions
Our moms are one of the very few most important people in our life. It's a needed gesture to gift her wedding gifts for mother of the bride. Take this chance as an opportunity to show your gratitude towards her for everything she's devoted her life to making you the person you've become today. Above are the wedding gifts for brides mother that we would like to recommend to you. Otherwise, you can shop wedding gifts on our website, Printerval.com since we provide a lot of gift options for all kinds of occasions, which are super creative and affordable.