What is Kwanzaa? Why is it obseved?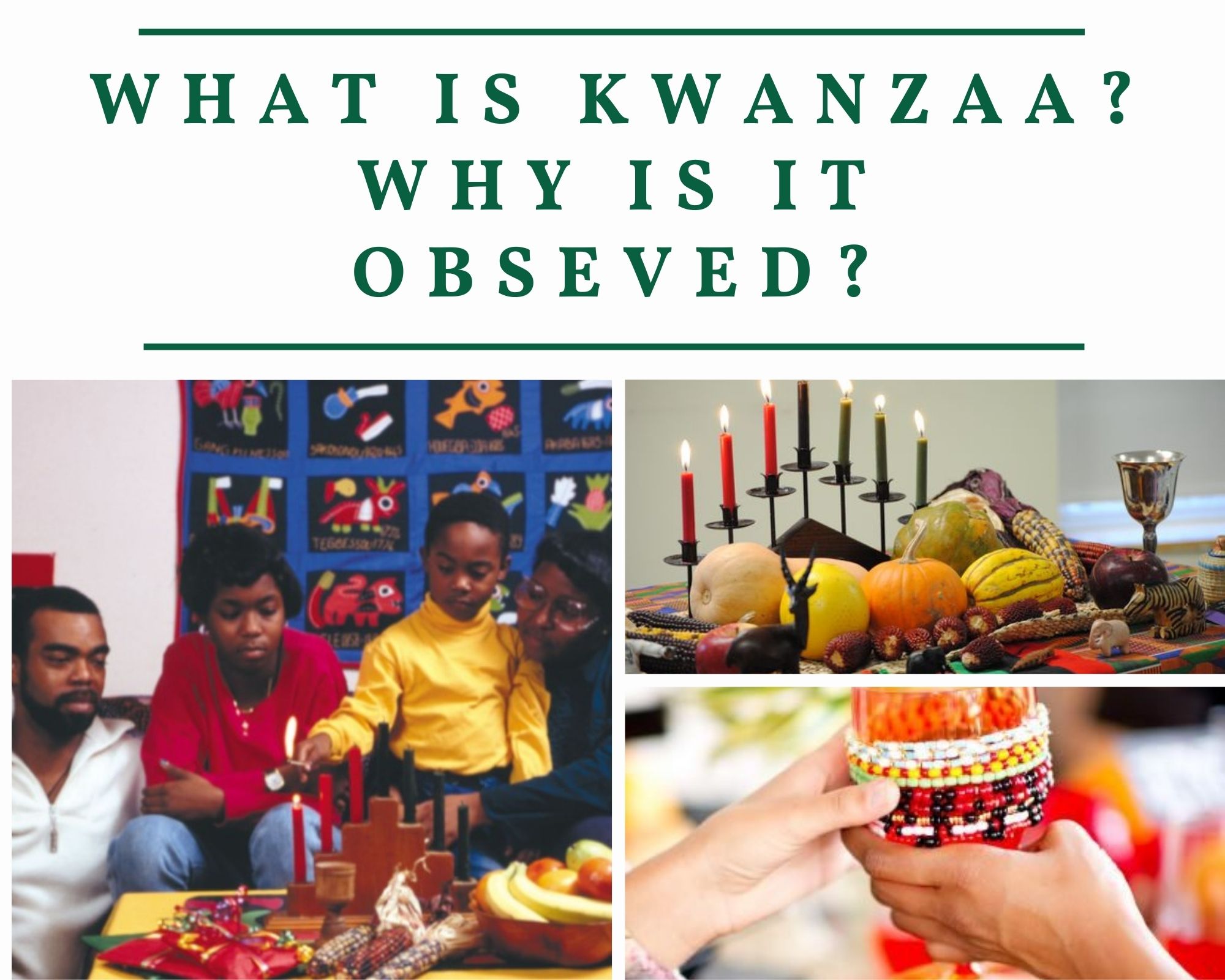 Unlike Christmas, Ramadan, or Hanukkah, Kwanzaa is not affiliated with a major religion. Kwanzaa is seen as one of the newer American holidays which has its roots in the tumultuous 1960s in order to ignite racial pride and unity in the Black community. Now, because of its full recognition, Kwanzaa is widely celebrated in the US.
In particular, the United States Postal Service released its first Kwanzaa stamp in 1997 and released a second-anniversary stamp in 2004. Additionally, former US presidents Bill Clinton and George W. Bush also recognized the date. But Kwanzaa has its share of critics, despite its mainstream status.
To understand more about this festival, let's get into this blog.
What is Kwanzaa?
Founded in 1966 by a professor, activist, and author Ron Karenga (or Maulana Karenga), Kwanzaa aims to connect black Americans with their African roots and recognize their struggles as a people by building community. It is observed every year between December 26 and January 1.
Derived from the Swahili term matunda ya kwanza, meaning first fruits, Kwanzaa is based on the harvest celebrations of Africans like Zululand's seven-day Umkhost.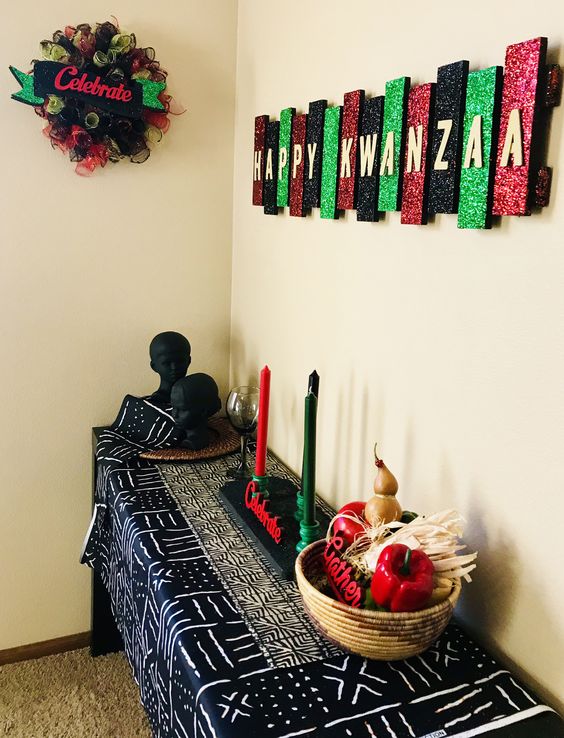 According to the official Kwanzaa website, "Kwanzaa was born out of the Kawaida philosophy, a cultural nationalist philosophy that argues that the important challenge in black lives is the cultural challenge and the What Africans have to do is discover and bring out the best of their culture, both ancient and present and use it as a foundation to become role models of excellence and ability, the human capacity to enrich and expand our lives. "
What are the principles of Kwanzaa?
Like many African harvest celebrations that take place over seven days, Kwanzaa has seven principles which are known as Nguzo Saba.
They are:
Umoja (Unity)
Kujichagulia (Self-Determination)
Ujima (Collective Work and Responsibility)
Ujamaa (Cooperative Economics)
Nia (Purpose)
Kuumba (Creativity)
Imani (Faith)
Do all blacks celebrate Kwanzaa?
Although Kwanzaa celebrates African roots and culture, some blacks have made the conscious decision to avoid the holiday because of religious beliefs, the holiday's origins, and the history of Kwanzaa's founder. As a result, not all blacks observe the day.
Can everyone celebrate Kwanzaa?
While Kwanzaa focuses on the Black community and the African Diaspora Community, people from other racial groups can join the celebrations.
In particular, people from diverse backgrounds participate in cultural celebrations like Cinco de Mayo or Chinese New Year or people who are not of African descent can also celebrate Kwanzaa. As the Kwanzaa website explains, "Kwanzaa's principles and Kwanzaa's message have a common message for all people of goodwill. It is rooted in African culture, and we speak as Africans must, not only to ourselves but to the world."
In sum, while Kwanzaa has its contradictions and its founder has a troubled history, the holiday aims to unify and lift the spirits of those who observe it. Like other holidays, Kwanzaa can be used as a positive force in the community. Some believe this outweighs any concerns about holiday authenticity.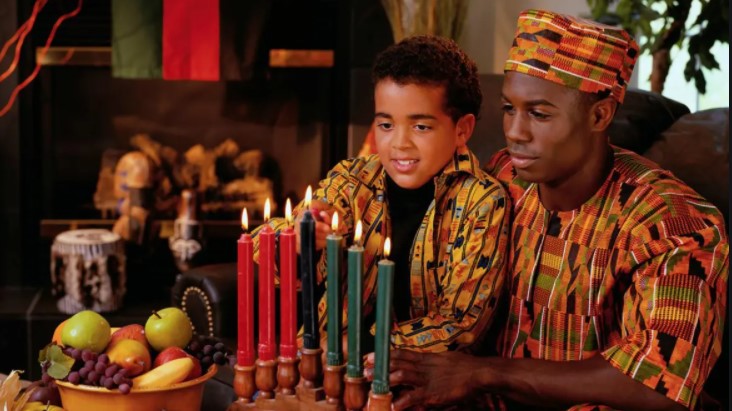 How to celebrate Kwanzaa?
Traditional celebrations of Kwanzaa
During Kwanzaa celebrations, a mkeka (straw mat) is placed on a table covered with kente cloth, or another African fabric. On the top of the mkeka there is a kinara (candle holder) in which there is mishumaa saba (seven candles). Kwanzaa's colors are black for the people, red for their struggles, and green for the future and hope that comes from their struggles.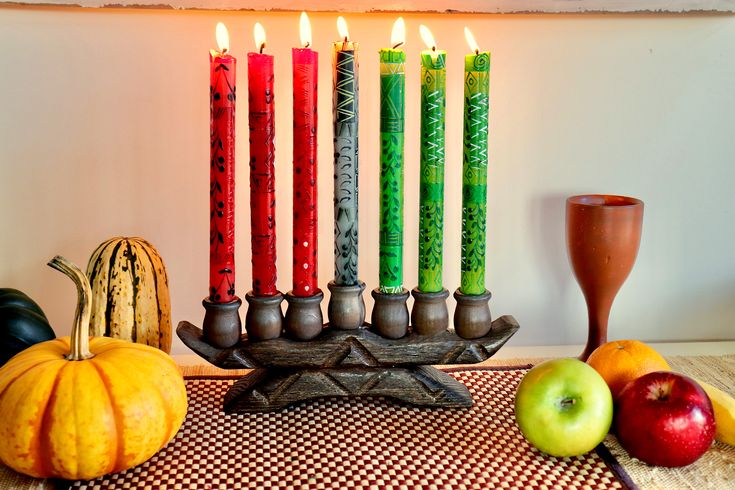 Mazao (crop) and kikombe cha umoja (cup of unity) also sit on the mkeka. The solidarity cup is used to pour tambiko (libation) in memory of ancestors. Finally, objects of African art and books about African life and culture are placed on the mat to symbolize the commitment to heritage and learning.
Celebrations of Kwanzaa currently
Recently, wearing or using items with Kwanzaa has been a popular way of celebration recently thanks to the development of fashion and printing technology. With these custom items, you will have a sense of belonging when enjoying the atmosphere of the day, along with others. Also, you will feel special and excited by utilizing these items.
If you are looking for unique and trendy Kwanzaa products, Printerval is an ideal shop for you to choose from. With attractive prices and excellent quality, the shop is trusted by millions of customers from all around the world.
Printerval also provides you with products that are updated every single day, based on the year's holidays in terms of designs and printing artworks.