It's another summer. It's 2023 and there's a lot going on in the next few months. Is there anyone in your family going to celebrate their birthday in the latter half of the year? Are they Disney's loyal fans? If yes, then planning for a Disney trip is a must. And what else shouldn't be missing out? For sure, Disney birthday shirts for family are considered one of the best items to showcase the Disney spirit in style. Imagine strolling through the Magic Kingdom with your loved ones on their birthday, each adorned in a unique, eye-catching Disney World birthday shirt that reflects their individual personalities.
The options are endless when it comes to custom Disney shirts. You can choose from a wide range of colors, fonts, and graphics to create a shirt that is truly one-of-a-kind. Want to add your family name or a special date? No problem! With the rise of online platforms and custom printing services, getting your hands on these trendy shirts has never been easier. Let's see what are Printerval's best options when it comes to custom Disney tshirts to help your whole family make unforgettable memories in the birthday celebration.
What to take into consideration when choosing a T-shirt?
Whether you are looking for Disney birthday shirts for family or not, whenever choosing a T-shirt, there are several criteria to consider. Below we have listed the important factors before investing your money into a shirt.
1. Comfort
The comfort of a T-shirt is crucial, as it determines how enjoyable it is to wear. So when being on the look for custom Disney shirts, look for soft and breathable fabrics like cotton or blends that offer a good balance of comfort and durability.
2. Fit
The fit of a T-shirt plays a significant role in how it looks and feels. Consider your preferred style, whether you prefer a slim fit, a relaxed fit, or something in between. Ensure that the T-shirt provides enough room for movement without being too loose or too tight.
3. Quality
Check the quality of the fabric and stitching. A well-made T-shirt will have strong seams, clean stitching, and durable fabric that can withstand regular wear and washing without losing its shape or color. For those who are online shopping for custom Disney shirts, you can read the review section to see what previous customers commented on the products they received.
4. Style
Disney family birthday shirts come in various styles, including crew neck, V-neck, scoop neck, and more. Choose a style that complements each body type and personal preference. Additionally, consider the sleeve length, as options range from short sleeves to long sleeves and even sleeveless.
5. Color and design
T-shirts offer an opportunity to express your style. Consider the color options and whether they suit your complexion and wardrobe. Additionally, pay attention to the design or graphic on the shirt, ensuring it aligns with your interests or the occasion you plan to wear it for.
6. Price
Set a budget for your T-shirt purchase and consider the value for money. While expensive doesn't always equate to high quality, extremely cheap options may lack durability. Strike a balance between affordability and quality. Custom Disney shirts are reasonably priced, within the price range of $13.95 - $26.95.
Top trendy Custom Disney Shirts on birthday occasions from Printerval
#1: Matching Family Disney Dinosaur Birthday Custom T Shirt
Birthday boys will absolutely love these shirts. The design is just too cute to say "No" to. Colorful dinosaurs with the main line saying "Birthday Boy". Printerval offers birthday shirt options for all members of your family. With these shirts, you can personalize text/names/age numbers on the shirt. Isn't it cool?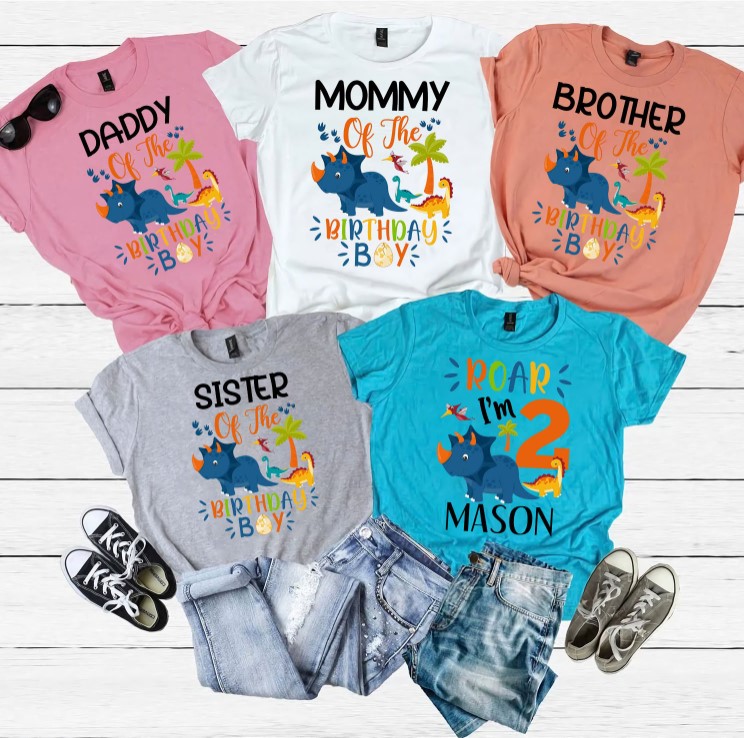 #2: Custom Disney Princesses/Princes Family Shirt
For little girls and little boys who are big supporters of Disney and its magical world where princesses and princes raise their voices strongly and firmly for kindness and plant a seed in our minds that kindness is the right thing to do, these shirts are sure to be their next favorite items right after their birthday trips are over.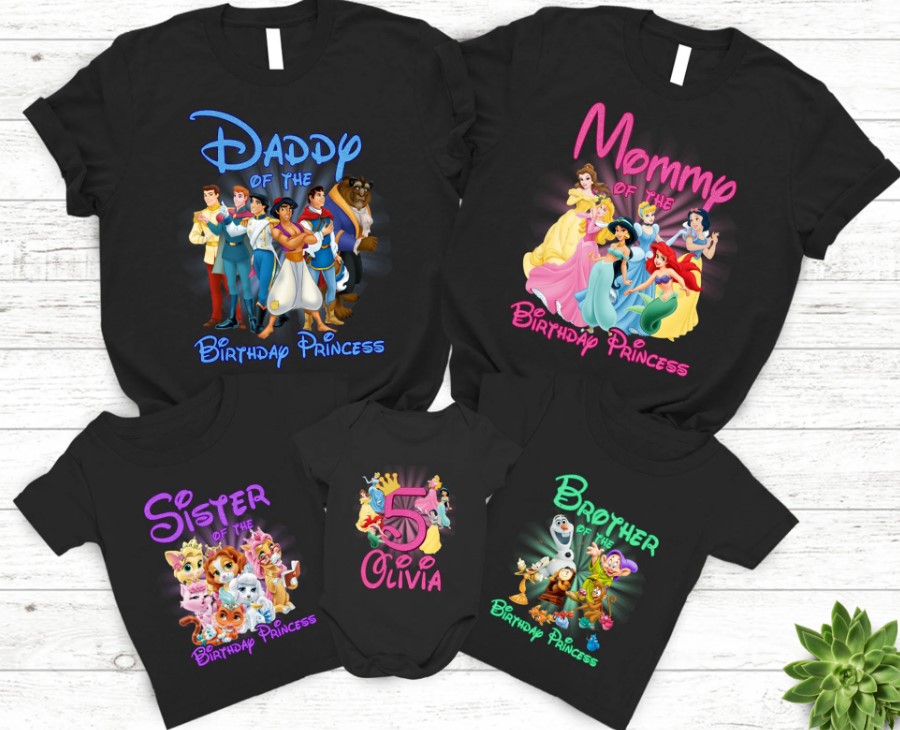 #3: Disney Birthday Disney Matching Family Shirts
We've recorded a surge in demand for these shirts these days by Minne's lovers. A lot of good feedback have been sent back to our website for the super cute design and the material of the custom Disney tshirts which are far better than what they've expected at a low price like that.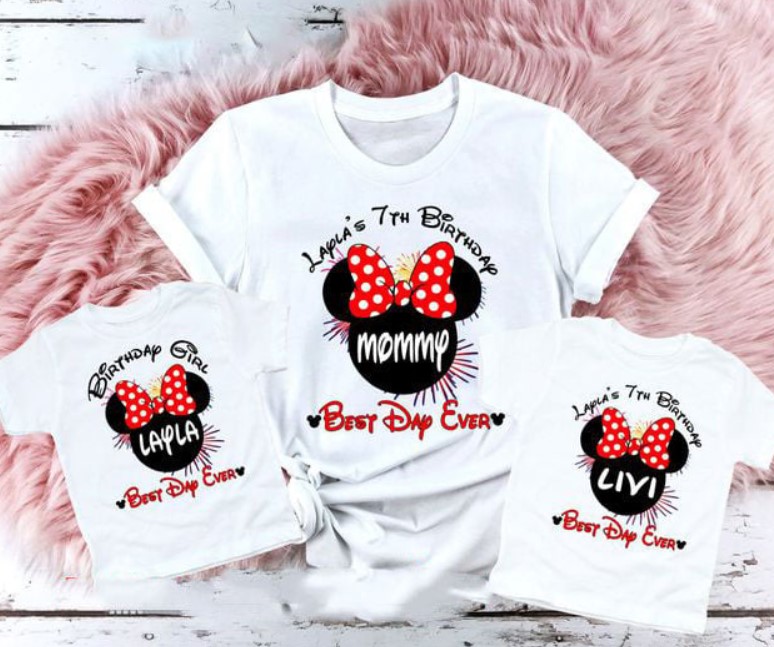 #4: Funny Matching Disney Family Birthday Shirt
While coming up with Disney birthday shirt ideas, the retro images of Mickey and Minnie Mouse have always been a tremendous inspiration for us. We acknowledge that there are many people like us who are so in love with the retro Disney characters, that's the reason many people who are planning a birthday Disney trip opt for these lovely shirts.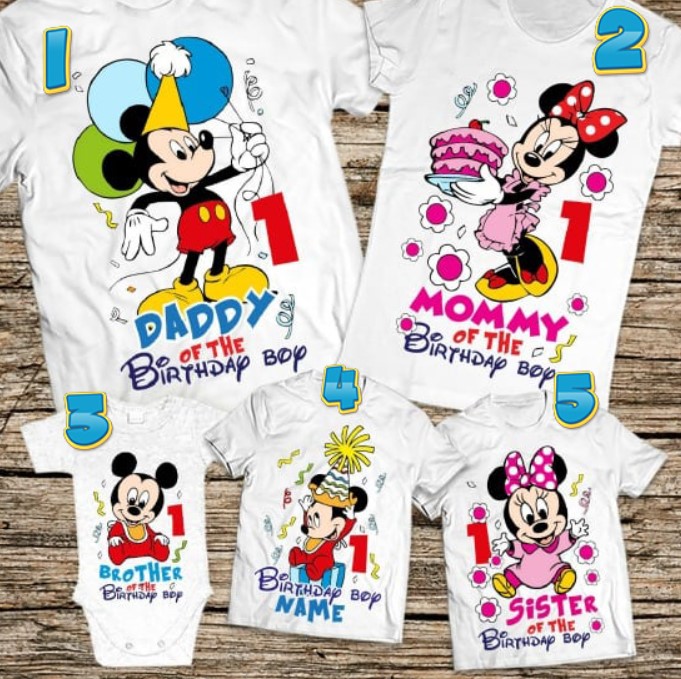 #5: Disney Birthday Squad Matching Family 2023
Simple yet not old-fashioned. These shirts are the best choice of all our custom Disney shirts selections. Text printed on the shirts can be personalized. With these custom Disney tshirts, your whole family is sure to successfully create a great time together as the best birthday squad ever.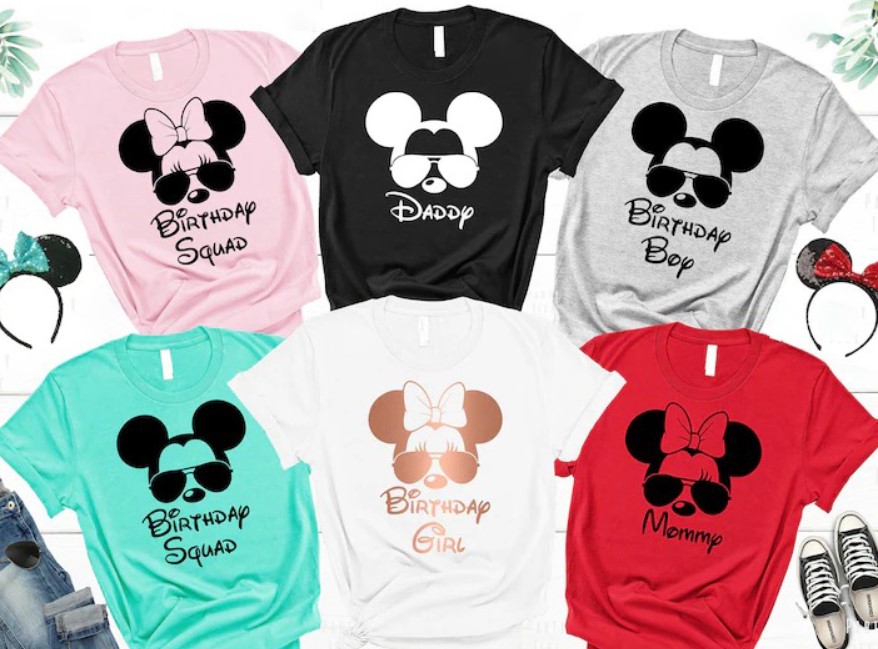 #6: Personalized 2023 Disney Birthday Princess Family Matching T Shirt
Our custom Disney tshirts are much loved with so many more eye-popping designs. Disney Birthday Princess Family Matching T Shirt selections are specially designed for baby girls' birthdays. The magical and outstanding design of Disney princesses inside the shape of Mickey Mouse's head. are likely to grab everyone's attention when your whole family hanging out for your baby girl's birthday celebration.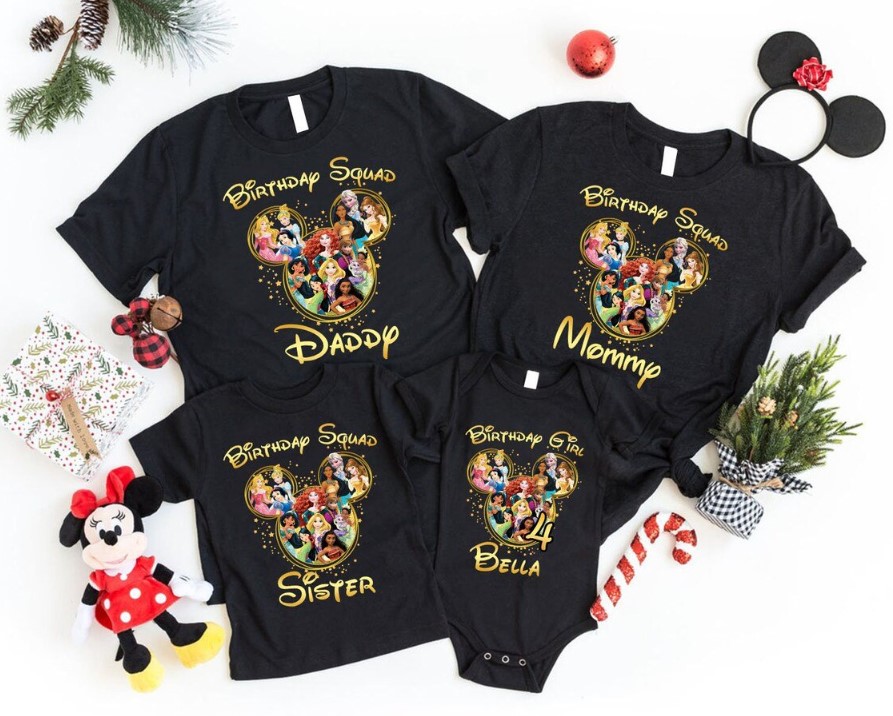 #7: Disney Best Birthday Ever Family 2023
Another Disney shirt design that we are proud to present to our customers. We make the most of the magical element by stroking Mickey's mouse head shape with gradient light colors to create a sense of mystery and a dreamy world. The design is elevated by other iconic symbols of Disney, such as the Disney Castle and Minnie and Mickey Mouse.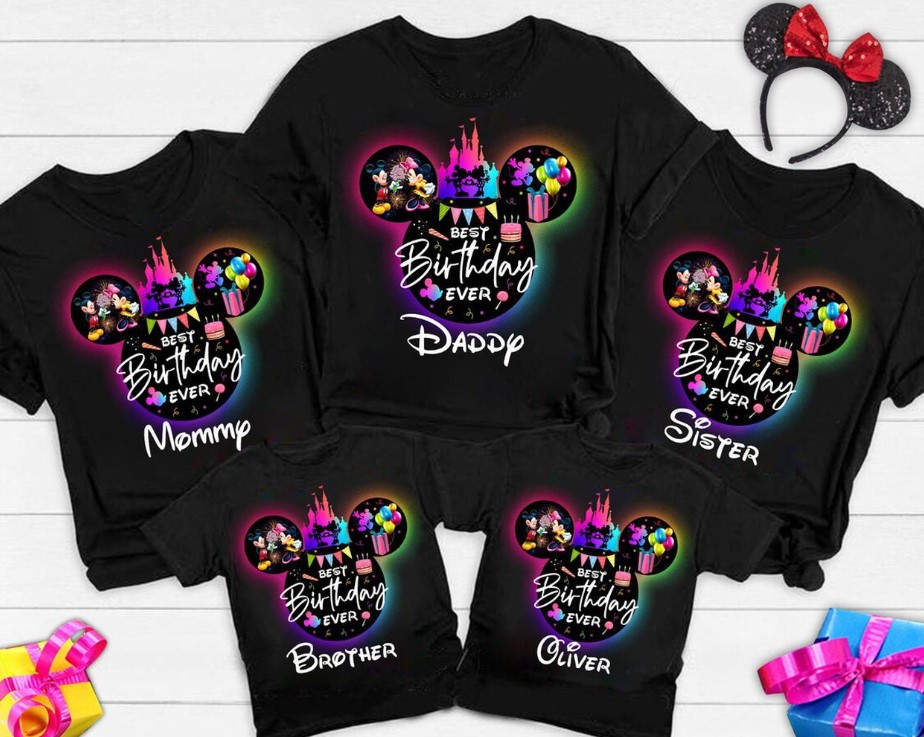 #8: Mickey Family Birthday Shirts
Who doesn't find Mickey Mouse's red shorts, large yellow shoes, and white gloves? They are unquestionably one of the most adorable pieces of clothing that have ever existed. These shirts are also greatly inspired by Mickey Mouse's costume. We always go to great lengths to present our customers with the most meticulous finished products, such as these Mickey Family Birthday Shirts.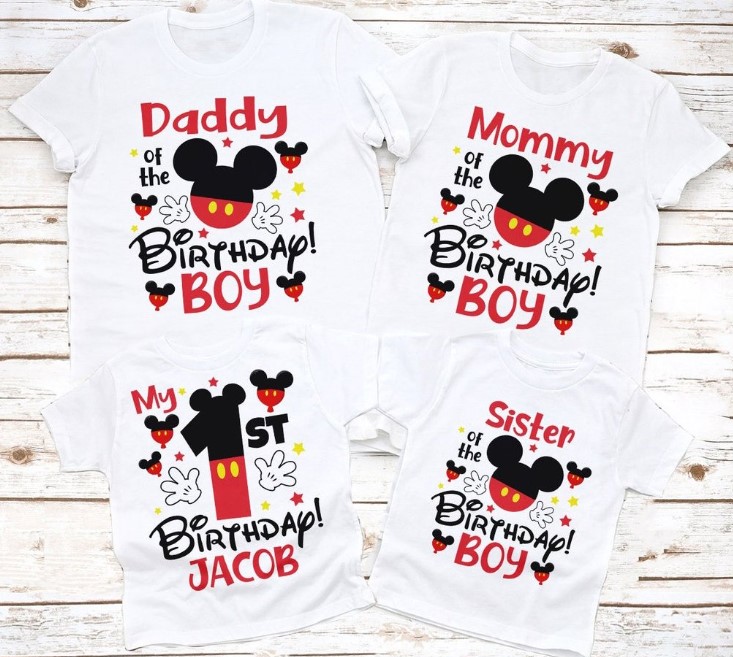 #9: Disney Birthday Squad Shirt
The Disney birthday shirt with a simple design features a touch of magic and celebrates the special occasion in style. The shirt is crafted from a soft, comfortable fabric, ensuring all-day comfort for the birthday girl or the entire birthday squad. There are two options of texts displayed on a Disney World birthday shirt, which are "Birthday girl" and "Birthday squad" in a delightful Walt Disney-inspired font for you to choose from. The letter "B" in "Birthday" is adorned with the iconic Mickey or Minne Mouse ears, adding a playful and recognizable touch. The design captures the essence of Disney magic and announces the wearer as the center of attention on their special day.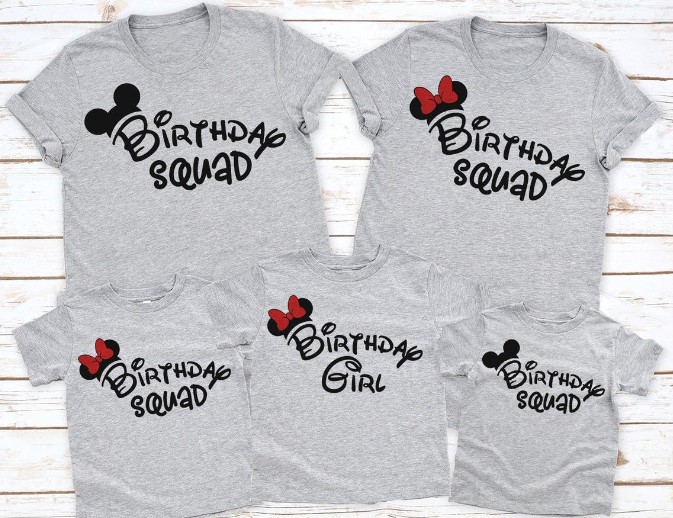 #10: Personalized 2023 Disney Birthday T-shirt
The last to appear on our custom Disney shirts on birthday occasions is also one of the most snapped-up items on our website. The design's idea is derived from classic Disney characters such as Duck Donald, Goofy, Pluto, etc. There are also personalized options for you to make these shirts more personal for each wearer, from the colors of the shirts, the displayed texts as well as the displayed age.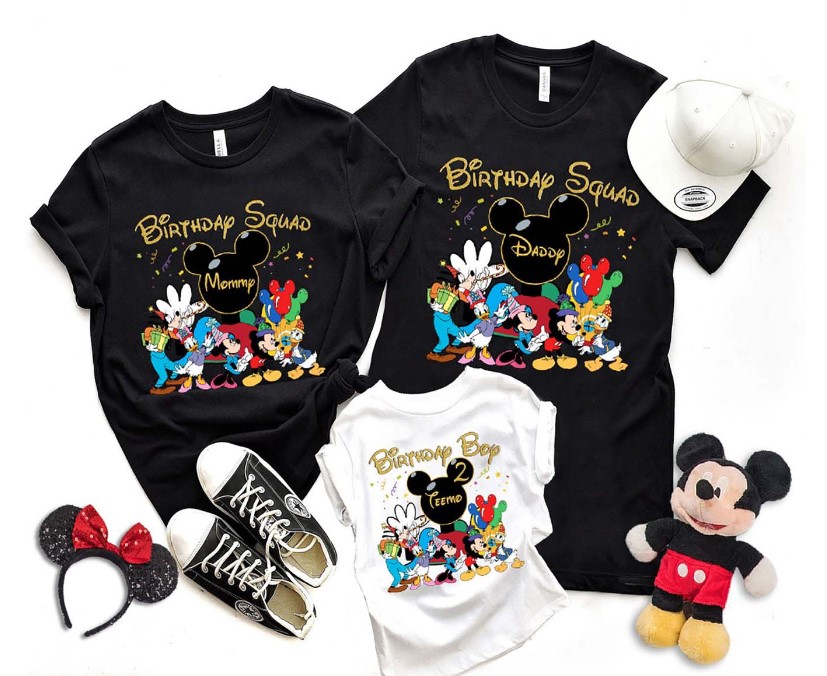 Final words
Our custom Disney shirts for birthday celebration purposes are updated every day. We provide our customers with custom Disney tshirts that bring a touch of Disney charm to the birthday celebration, making the wearer stand out and feel like a part of the magical world of Disney. The fonts and adornments chosen pay homage to the beloved characters, creating a memorable and personalized shirt that captures the joy and excitement of a Disney-inspired birthday.
You can view our Custom Disney Shirts for more birthday shirts ideas. Or have a look at our T-shirts, Mugs, etc. to explore more intriguing ideas.