How To Celebrate National French Fry Day?
What Is National French Fry Day?
National French Fry Day on July 13 is a terrific occasion to take the time to savor some golden-brown potato slices. But did you know that the origin of French fries is more than likely not French at all? Potatoes were being fried in Belgium far before the French, but more on that later. When it comes to the finest French fries on the globe, everyone seems to have an opinion. It's a time-consuming decision to pick your favorite because no two eateries seem to have the same recipe. French fries do have a nutritional stigma linked to them, though, due to high-caloric and fat content. But it's tough to say no to a hot batch – even the ones at the bottom of the bag.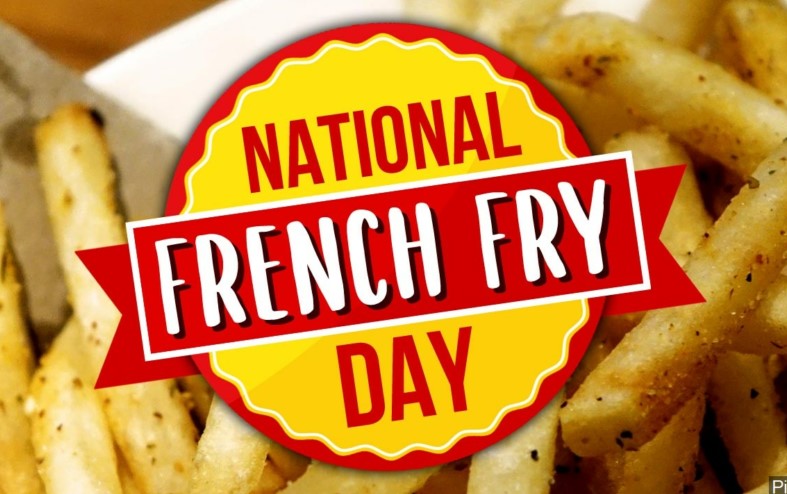 What Is The History Of National French Fry Day?
Estimates suggest Americans eat roughly 30 pounds of French fries per person each year. That seems like a lot, but when you think about all the ways you can consume fries, it adds up rapidly. They're simple to gulp down, whether they're right out of a fast-food French-fry container or if you're an expert at cooking fries at home. Add in all of the other sauces, and these basic potatoes become even more popular.
The word 'French fries' refers to deep-fried slices or strips of potatoes. While the actual origins are uncertain, the item joined the culinary scene sometime in the 1700s. It had taken a whole century for potatoes to become generally recognized as food, arriving in Europe in the 1600s.
Like other classic meals, the French fry has a fascinating folk myth about how it was formed. Belgians call dibs on the origins of French fries, claiming it to be an innovation of their people. According to a manuscript by Joseph Gerard, the population of the Meuse Valley, located near Dinant in Belgium, devoured a lot of fish, as they lived near the river. During winters, when the rivers would freeze and fishing would become impossible, the notion to slice potatoes like fish fillets and fry them in hot oil was formed.
But all credit does belong to the French for popularizing frying delicacies and selling them in public on street carts called 'Frites,' in the mid-1700s. Eventually, potatoes were chopped in all sorts of shapes and cooked. As to how French fries came in America, there are two versions of that narrative, too. The more common and acknowledged reality is that Thomas Jefferson brought the dish to the U.S.A. While serving time as an ambassador, Jefferson spent a lot of time in France and went on to serve "potatoes presented in the French manner" at a White House dinner in 1802.
The alternative story is that World War I troops who were stationed in Dinant in Belgium developed a love for the local finger food known as 'Pommes Frites and carried the notion back with them. This is when French fries truly took off and became widespread in the U.S.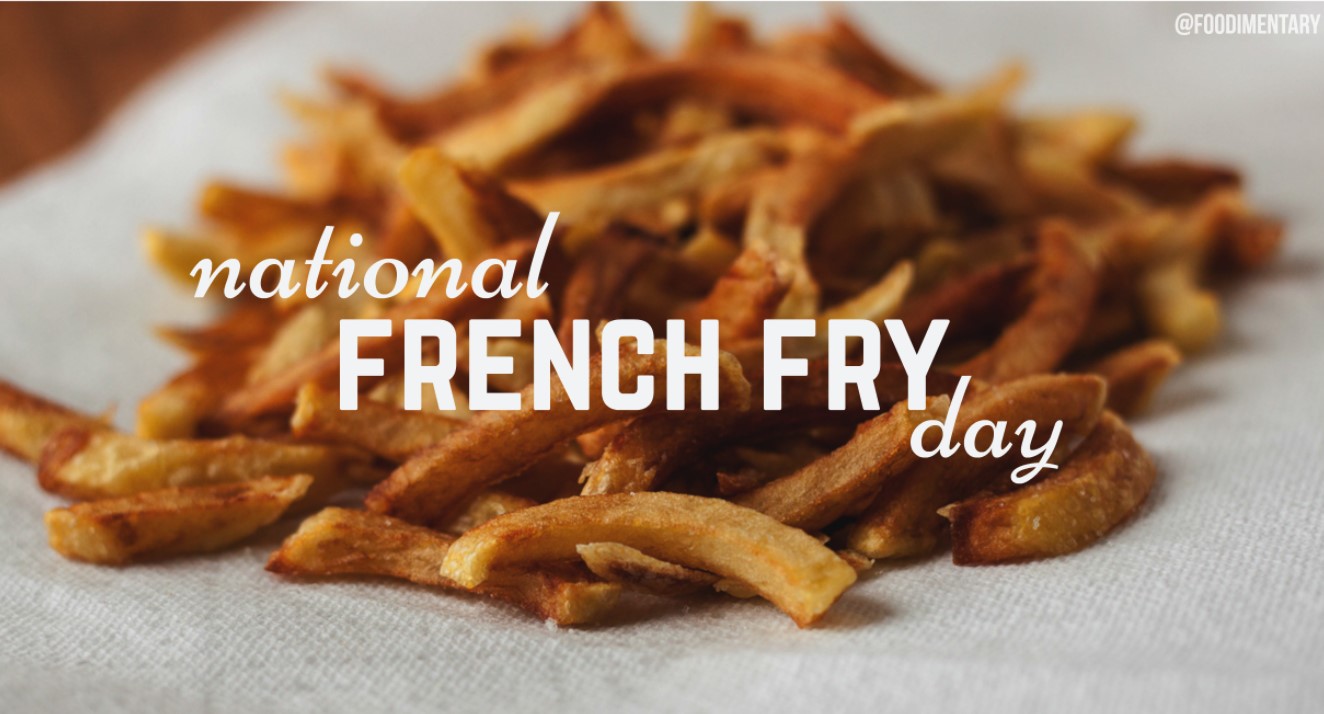 How To Observe National French Fry Day?
With the popularity of French Fry, it's not unexpected that the globe has come up with as many distinct kinds of this delectable cuisine as you could think. So one of the greatest ways to commemorate French Fries Day is to arrange a party dedicated to celebrating the multinational cuisine the fried potato has generated. The easiest variant is just to throw chopped raw onions in some ketchup, then eat them up like they do in the Netherlands. For the braver, try some of the kinds below!
Canadian Poutine - This dish is a classic way to consume French Fries, originating in Canada. This meal is wonderfully delicious, mixing the crunchy soft texture of the French Fries with thick beef gravy, and topped with cheese curds.
American Bacon Cheeseburger Classic — There is little Americans enjoy more than adding cheese and bacon to just about anything. French fries are no exception, there is little that is as well-loved as a delicious, fatty addition to any meal. To prepare this classic you start with a base of fries and stack it on bacon, chopped onions, cheese, and ground beef before throwing it in the oven just long enough for everything to go melty. Then take a handful and dive in!
Greek-French Fries - The Mediterranean seldom fail at making an already great cuisine rich and full of the scents of home. If you adore the typical Greek flavors of Parmigiano-Reggiano or Romano cheese, garlic, and oregano, then these fries are sure to leave you smiling.
The main ingredients here are Extra Virgin Olive Oil to cook them in, after which you throw them in garlic salt, Greek Oregano, and your choice of cheese such as those indicated ahead. To get the full impact you're going to want to stick to the white crumbly cheese of the region, the very brave may choose Mizithra cheese.
These are a few foods that may assist enrich French Fries Day, and truly bring out the wonderful variety of this centuries-old delight.
So bring out your deep frier, slice up some potatoes, and celebrate French Fries Day by eating yourself into carbohydrate-laden oblivion!
Of course, you don't need to seek inspiration from around the world to produce your French fry masterpiece. One thing that we have particularly seen as of late is the growth in the usage of truffles and truffle oil when it comes to French fries. Black Truffle and Parmesan Fries are highly delicious, giving a sumptuous way of enjoying this traditional dish. After all, truffles have frequently been dubbed the jewel of the culinary world. They are a unique variety of mushrooms that has a very powerful scent and peculiar flavor. They are gathered with the help of truffle dogs or female pigs, which can detect their pungent fragrance.
There are many different species of this fungus, but especially those in the genus Tuber considered a delicacy. Two of the most popular species include the white truffle (Tuber magnatum) of Alba and the pricey French black truffle from the Perigord region. Black Truffle and Parmesan Fries are crisp, salty, and rich in unique and delectable truffle taste. The Parmesan matches the black truffle pretty beautifully. When Black Truffle and Parmesan Fries are combined with beef, you have a supper that is sure to make everyone envy!
In reality, you may not have heard of the word 'steak fries before, but it is merely the fancy name for steak with a side of fries, and I am sure you have not only heard of this meal but also experienced it yourself. Steak and fries are offered all around the world. People appreciate it in a range of ways. Some people consume it as it is. Others love it with a side of veggies or a sauce, whether it be peppercorn, garlic, gravy, or anything else.
Béarnaise sauce is a common addition to this meal. This is created with egg yolks, clarified butter, and seasonings. If you want to bring friends or family around on French Fries Day and you are searching for a method to wow, we would surely recommend that you couple your French Fries with steak. Do this and you can't go wrong!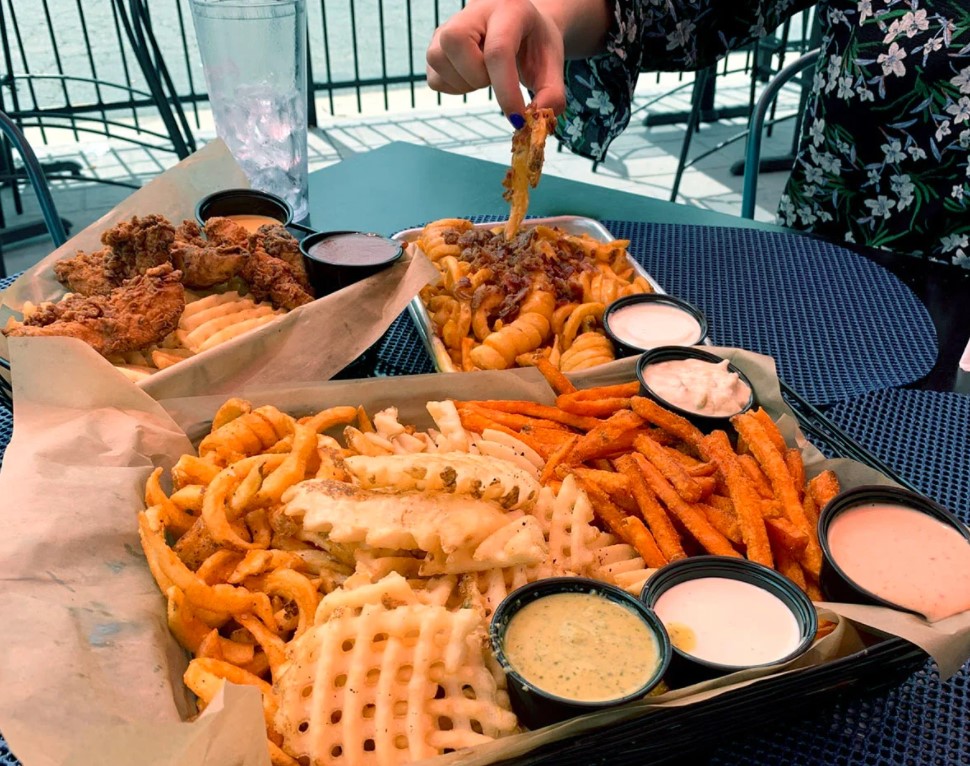 What To Wear On National French Fry Day?
T-shirt with Fries Design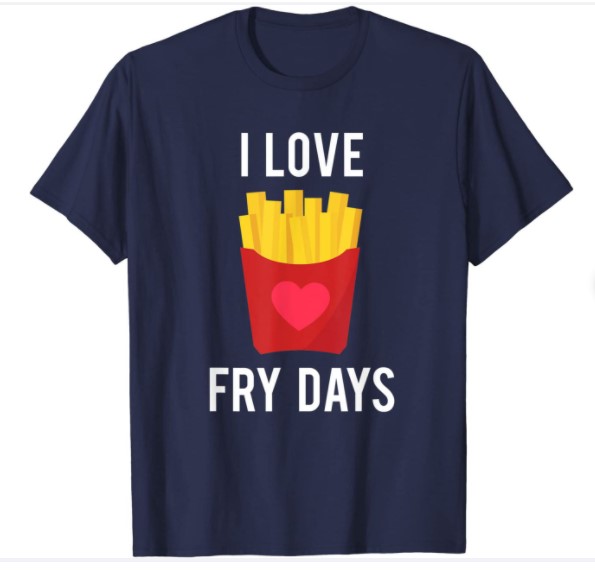 Tank Top With Fries Design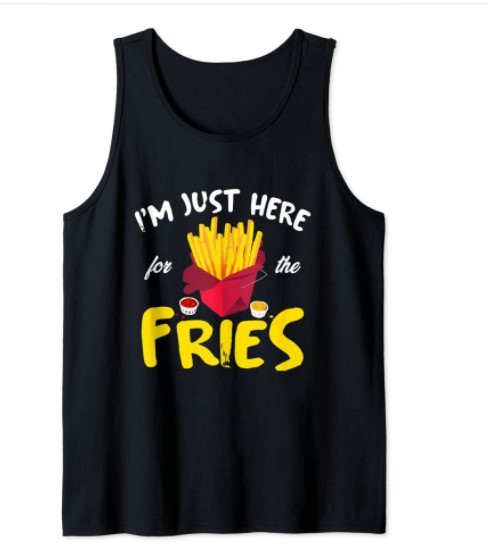 Hoodie With Fries Design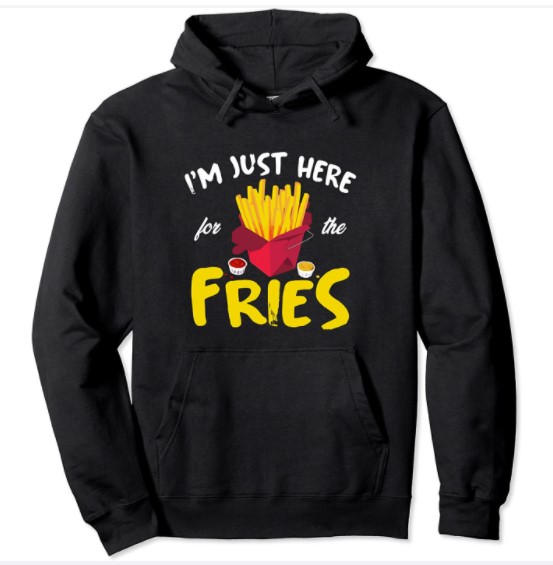 Mug With Fries Design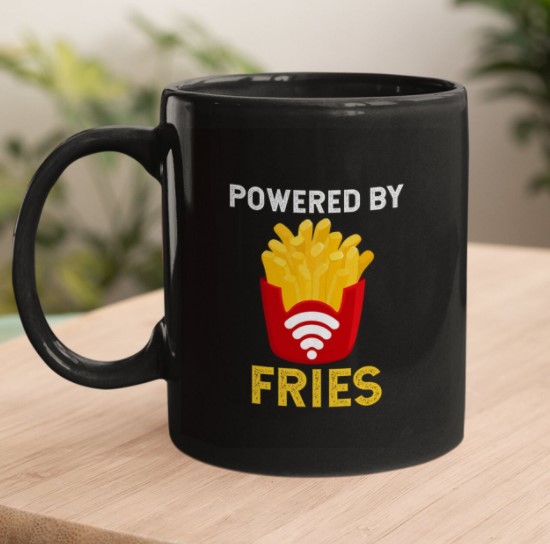 Where To Buy Good Items With National French Fry Day?
Printerval is a website that provides a lot of products for National French Fry Day a lot of products from Clothing, Home & Living, Accessories.. with a variety of designs, colors, and designs. Coming to Printerval, you will definitely find the right item for yourself. Products such as T-shirts, Hoodies, .. are all very unique designs, the designs are from artists around the world. In addition, you can also own your own unique shirt with Printerval's print-on-demand service.
Printerval is here to support you! Let's shop at Printerval now